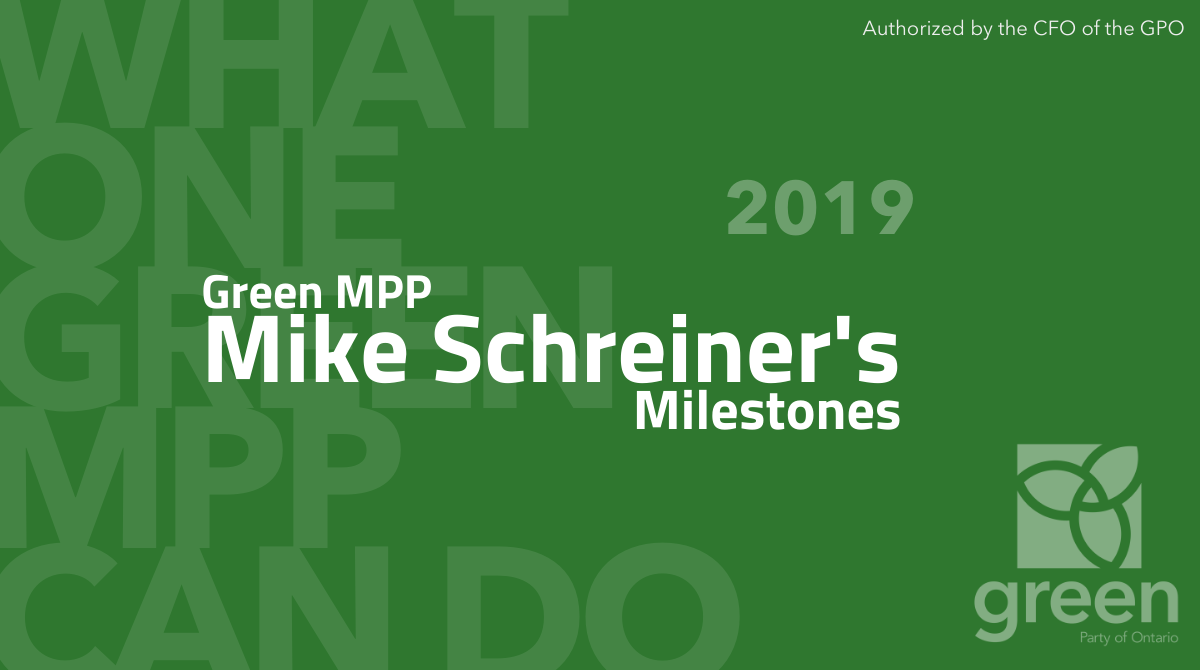 Mike has held the Ford government accountable, while achieving hard-earned victories and collaborative solutions through the kind of respectful behaviour our democracy needs.

Here is a recap of Mike's 2019 milestones at Queen's Park:
In January, Mike led the charge inside the legislature to defend the Greenbelt against Bill 66. Bolstered by NGOs and mayors, the Conservatives caved on their plan to open the Greenbelt.
In February, Mike introduced his first private member's bill, the Paris Galt Moraine Conservation Act, to protect Guelph's drinking water supply, gaining support from all parties at second reading. 
In March, Mike sounded the alarm about the loss of enforcement of animal cruelty laws, leading the government to put in place temporary protections until long-term plan was developed. 
In April, after the Premier held multiple $1600-per-plate dinners with wealthy lobbyists, Mike introduced a bill to protect our democracy by limiting fundraisers to $100 per ticket.
In May, Mike launched a campaign to protect endangered species from Bill 108, culminating in a joint press conference with the NDP and Liberals demanding the Premier halt his plan to pave over critical habitat.  
In June, Mike's advocacy for tree planting was credited by Forest Ontario as being key in the federal government's decision to save the 50 Million Tree Program axed by the Premier.
In July, Mike visited colleges, businesses, farms, factories, and First Nations in 15 communities in southern Ontario on his Clean and Caring Economy tour to highlight jobs in the $26 trillion clean economy.
In August, Mike responded to the Premier's corruption scandal with a series of comprehensive reforms to prevent cronyism and ensure integrity in the appointment of public officials. 
In September, over ten gas stations decided to display Mike's gas pump stickers, which tell the full story about the costs of climate change as opposed to the Premier's misleading stickers. 
In October, Mike invited all Ontarians to take the housing survey as the Green Party develops a plan to tackle the housing crisis and unlock affordable housing solutions for all. 
In November, Mike successfully petitioned the government to extend the moratorium on new bottling permits, protecting community drinking water from global companies for another year. 
In December, Mike passed the first ever Green legislation in Ontario, co-sponsoring a bill that makes it illegal to block an EV charging station with a gasoline-powered vehicle.