For more information, please contact
Cecilia Stuart
Schreiner to Environment Minister: Extend the moratorium on water bottling
November 14, 2019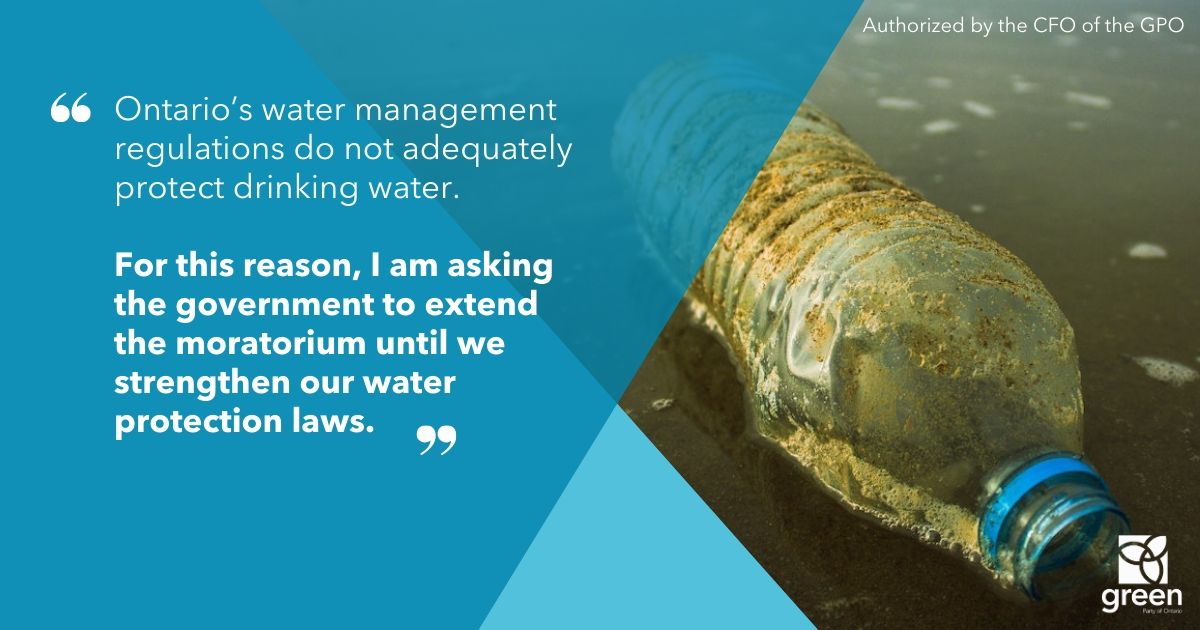 Sign Mike Schreiner's letter here

Honourable Jeff Yurek
Minister of Environment, Conservation and Parks
College Park 5th Flr, 777 Bay St
Toronto, ON M7A 2J3
minister.mecp@ontario.ca

Re: Moratorium on new and expanded water bottling permits
Dear Hon. Minister Yurek:
As you are aware, the current moratorium on new and increased permits to take water expires at the end of the year.
Yours and previous governments have pledged to conduct a scientific review of our water sources and to consult with the public, experts and stakeholders before lifting the moratorium and allowing additional water taking.
But to date, you have not made the review public. 
Ontario's water management regulations do not adequately protect drinking water. For example, current water taking rules do not consider the cumulative impact of water taking activities on present and future supply. 
For this reason, I am asking you to extend the moratorium until we strengthen our water protection laws based on sound science.  
Minister Yurek, I am sure you agree that we have a sacred responsibility to manage water as a public trust.
Water-taking decisions must prioritize drinking water for people and communities as the first priority, while also ensuring that water is available for our $40 billion food and farming sector. 
At the moment, Ontario's water management regime is insufficient and does not adequately protect water for the public good. In addition, our understanding of the cumulative effects of multiple water uses, as well as the increasing pressures of climate change and population growth, is weak. 
As such, it would be inappropriate and irresponsible to allow additional water to be extracted. 
In last year's public consultation, 96% of respondents supported an extension of the moratorium. At the time, your government made the right decision to extend the moratorium.  
But that decision will be in vain if you allow the moratorium to expire without having made any changes to our provincial water management policies. 
Minister, we can develop science-based regulations that are fair for industry and put water for public use at the top of the priority list.
Until these measures are in place, we must extend the moratorium on new water bottling permits.
Sincerely,
Mike Schreiner
Leader
Green Party of Ontario
-30-