For more information, please contact
John Chenery
First Green legislation in Ontario history, supporting electric vehicles
December 12, 2019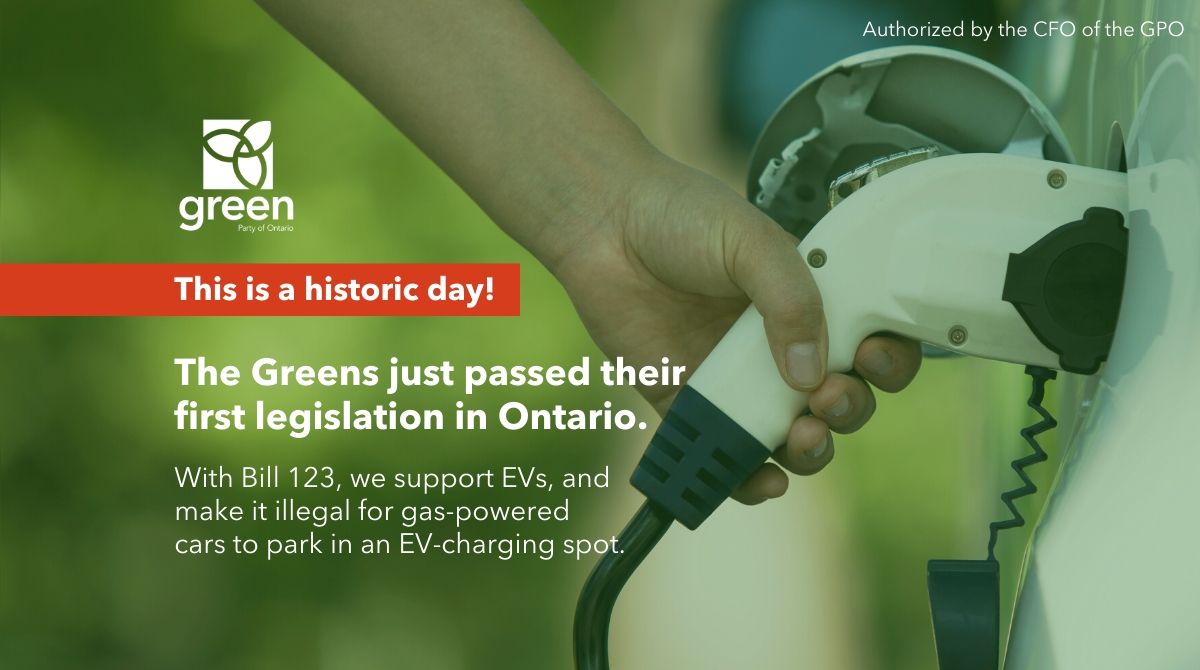 QUEEN'S PARK — History was made in Ontario today, as Mike Schreiner, working in collaboration with Whitby MPP Lorne Coe, successfully passed the first piece of Green legislation in history, a bill that would make it illegal to block an electric vehicle charging station.
"With this legislation, the Green Party is making its mark on Ontario politics, planting a small seed for the clean and caring economy," said the MPP for Guelph, Mike Schreiner.
"This is common sense legislation that makes life easier for EV drivers and removes one of the barriers standing in the way of EV adoption."
The bill imposes a $125 fine on vehicle owners who obstruct EV charging spaces, addressing one of the biggest complaints of EV drivers.
"I promised to put people before party and to do politics differently by working collaboratively to improve life for Ontarians. I am proud that the first Green legislation was a collective effort to make a small, albeit substantive, difference for EVs, which are essential to combating the climate crisis," said Schreiner.
Global automakers are spending $255 billion over the next five years to develop electric vehicles, and by 2030 EVs are projected to account for half the vehicles sold in Canada.
Schreiner called on the Premier to make Bill 123 the starting point for reversing the Ford government's rollback of incentives for EVs.
"Transportation is Ontario's largest source of emissions. I will continue pushing the government to electrify every aspect of our transportation network and create jobs and investment in the $26 trillion global clean economy," said Schreiner.
-30-