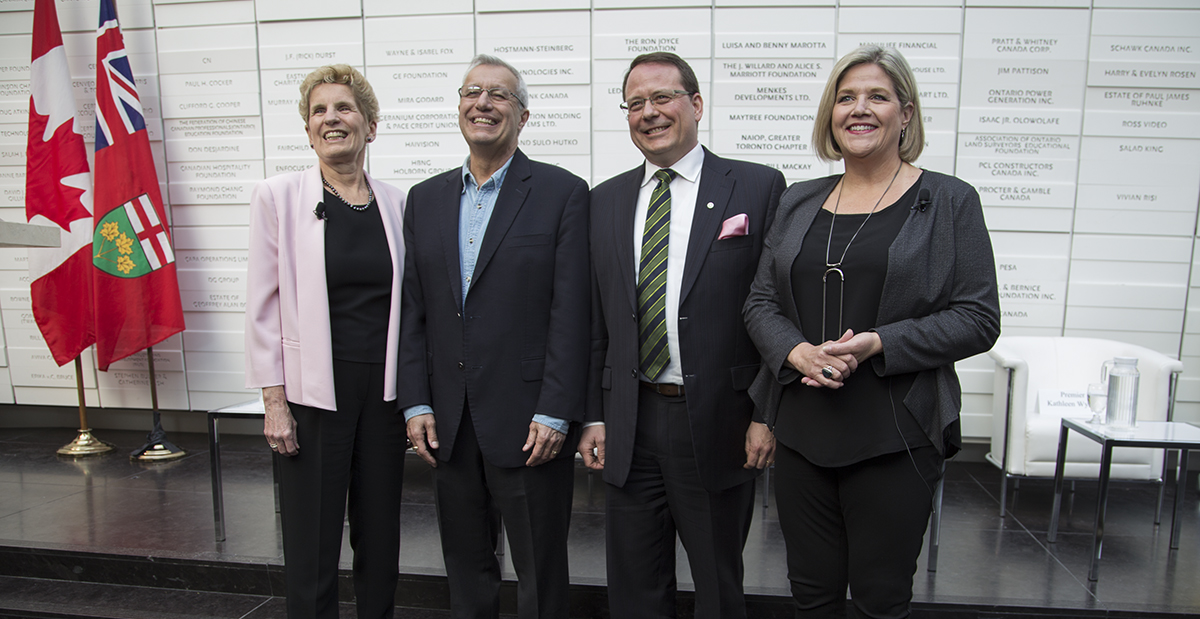 Share:
Yesterday, Ontario's four most powerful political party leaders took the stage to discuss the need for increased democratic engagement among youth and minority groups at Ryerson University, in a forum moderated by Toronto Star's Martin Regg Cohn.
Mike Schreiner, leader of the Green Party of Ontario, joined Liberal Premier Kathleen Wynne, Progressive Conservative interim leader Vic Fedeli, and NDP Leader Andrea Horwath, to share ideas on how to better engage young people.
In terms of addressing voter disengagement, Schreiner says, "I think all of us need to start a dialogue where we talk to people as citizens, instead of just taxpayers and voters. And as citizens, we have rights and responsibilities, such as the right to vote. But we also have responsibilities be more active participants in the political process."
To do this, Schreiner proposes solutions such as increased education from Elections Ontario on campuses on how and where to vote and reducing the voting age to 16 to build a lifelong habit of voting.
Following the Leaders' forum, Taylor Howarth, GPO Chair of Engagement and Outreach, joined a panel of political party strategists on how to further mobilize the youth to vote. "I think the question for young people in choosing who will form our next government, is 'Are you investing in our future? What solutions does each party have going forward in invest in the youth's future?'", Howarth says.
Watch the full video below:
Or read more coverage about the event:
Canada's democracy could use a reboot to make it stronger.
Today is International Day of Democracy, a good time to push the Prime Minister to keep his promise to make the 2015 federal election the last under Canada's outdated electoral system. Likewise, it is a good time to push Ontario's political parties to support electoral reform in the lead up to the 2018 provincial election.
I will be celebrating by hosting a street party in support of Democracy Guelph—a cross-party, non-partisan group of citizens who want all votes to count. Democracy Guelph is working with electoral reform experts who support a form of proportional representation called Local Proportional Representation (LPR).
LPR was designed in response to what Canadians told the Special Parliamentary Committee on Electoral Reform and the concerns and conditions expressed by the Prime Minister. LPR is a compromise PR system that reflects Canadian electoral values.
In Ontario, the Green Party will continue to support Proportional Representation (PR). We want every vote to count. We want a Legislature that reflects the democratic will of Ontarians. And we want diverse voices that represent all Ontarians at Queen's Park.
People in Ontario are frustrated with the political status quo. They are tired of politicians like Premier Wynne who have 100 percent of the power with only 38 percent of the vote. False majority governments can act like dictators for four years between elections even though a majority of people did not vote for them. This leads to bad policies like moving gas plants, selling off Hydro One and building subway stops that are politically motivated.
Unless a party is supported by a majority of voters, PR systems tend to elect minority governments that reflect the democratic will of the voters. Such governments require cooperation and collaboration among parties. They tend to result in more stable, long-term policy directions that are less motivated by political self-interest because of the need to compromise.
I believe the people of Ontario want a better, stronger democracy. Today, International Day of Democracy, is a time to celebrate our democratic institutions and to pledge to make them better.