For more information, please contact
Cecilia Stuart
Schreiner highlights Ontario Greens' new solutions to old problems in party's biggest-ever campaign
June 2, 2022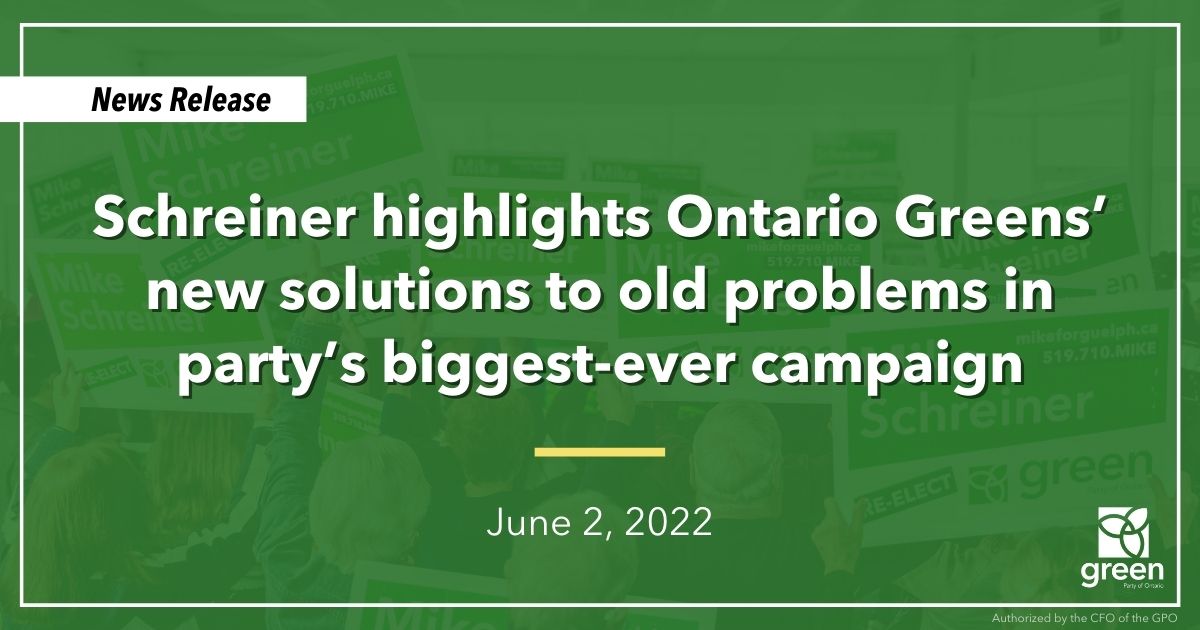 GUELPH — Leader Mike Schreiner highlighted the Ontario Greens' new solutions to old problems throughout the 2022 election campaign.
"On election day, I am proud to say that I'm inspired by the momentum Ontario Greens have created," Scheriner said. "Across the province our vision for a more caring, connected and climate-ready Ontario is resonating."
"There is a sense of urgency to this campaign. This election comes at a critical time. We face a climate emergency that the other parties simply deny or offer up half measures to."
"We need urgent climate action now," Schreiner stated. "Not Doug Ford's anti-climate agenda or the others who seem content to just tweak a broken system."
"Across the province the message is clear. If you want Green, vote Green. We have the vision and leadership to build the caring, connected, climate-ready future you want."
Ontario Greens' 2022 election campaign at a glance:
Full slate of 124 strong, diverse candidates (76% from equity-deserving groups)
Raised three times as much money in this campaign compared to 2018
Historic first-ever appearance in Ontario leaders' debate and FONOM northern debate
Record number of sign and volunteer requests
Largest number of staff
Toured across the province in two fully electric Hyundai Ioniq5 cars
Schreiner visited with communities across the province — from London to Guelph to Parry Sound–Muskoka, Ottawa, North Bay and Sudbury — in a fully electric car, showing that clean transportation is both a practical and more affordable option amid skyrocketing fuel prices, highlighting the need to make EVs affordable for the average person with EV rebates and more accessible with expanded charging infrastructure.
"We've been charged up this whole campaign, and so have the EVs," Schreiner said. "It's been amazing to be out visiting with the people of Ontario and supporting our strong, diverse group of candidates in their home communities. It's clear that their communities are embracing and welcoming Greens' new solutions to old problems."
"Tonight, let's make history by electing more Green MPPs!"
-30-