For more information, please contact
John Chenery
About Mike
Mike Schreiner, Leader of the Green Party of Ontario and MPP for Guelph, is the first Green MPP elected to the Ontario Legislature in 2018.
Schreiner kicks off Ontario Greens' homestretch tour: The Final Charge
May 30, 2022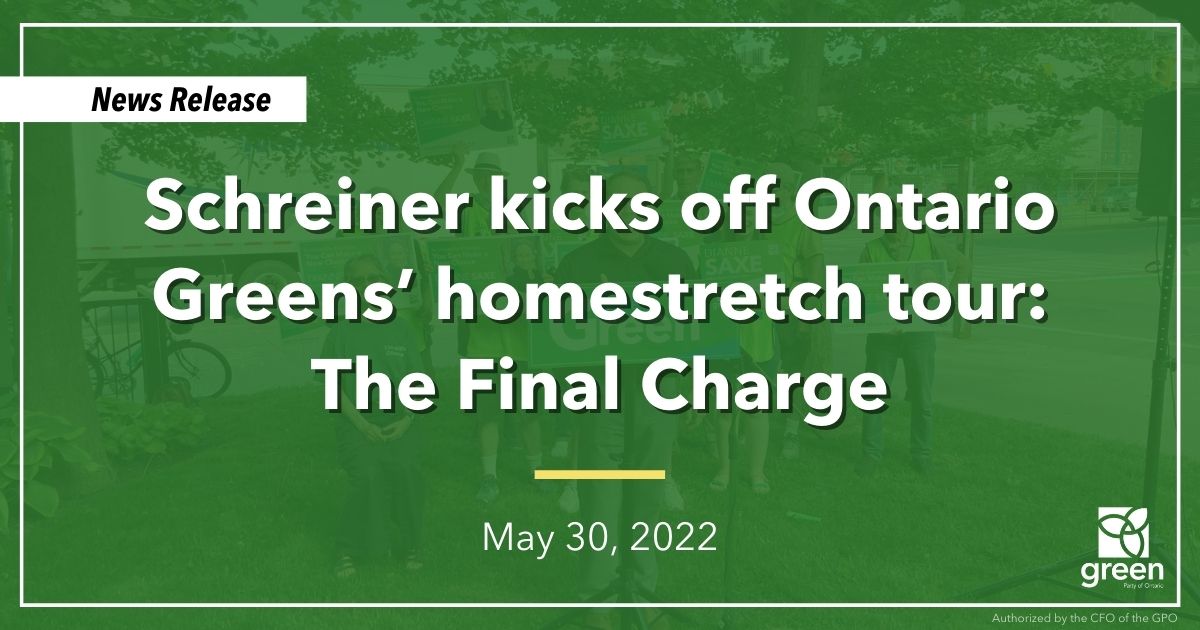 TORONTO — Today, Mike Schreiner kicked off the Ontario Greens' homestretch tour: The Final Charge in University-Rosedale alongside local candidate and Deputy Leader Dianne Saxe.
"Let me tell you: the EVs are charged up for the homestretch and so are we!" Schreiner said at the kickoff event.
"We've been building so much momentum all campaign long, across the province, in ridings like right here in University-Rosedale with Dianne Saxe and in Parry Sound–Muskoka with Matt Richter. And now it's time for the final push."
Scheriner highlighted how the other parties have ignored the climate emergency the entire campaign, and along with former Environmental Commissioner Dianne Saxe, went after Doug Ford's destructive anti-environmental record and sprawl agenda. He's ramping up climate pollution with gas plants, paving over nature, polluting the water we drink and the air we breathe — all all while gutting environmental protections and making life less affordable with expensive sprawl.
"Throughout this campaign I have been feeling a sense of urgency," Schreiner said. "This election comes at a critical time. We face a climate crisis that others simply deny or offer up half measures that won't provide the real solutions people need."
"Together we can crush pollution and stop the sprawl."
"We are offering new solutions to the old problems that the PCs, Liberals and the NDP have never been able to solve."
"Let's get out there and make history by electing more Green MPP's."
Schreiner is touring the province in his Green EV over the next three days, making stops in Toronto, Dufferin-Caledon, Barrie and Simcoe region today, and Parry Sound–Muskoka tomorrow.
-30-