For more information, please contact
John Chenery
About Mike
Mike Schreiner, Leader of the Green Party of Ontario and MPP for Guelph, is the first Green MPP elected to the Ontario Legislature in 2018.
Schreiner in Simcoe region: Greens will protect Lake Simcoe, nature & water
May 30, 2022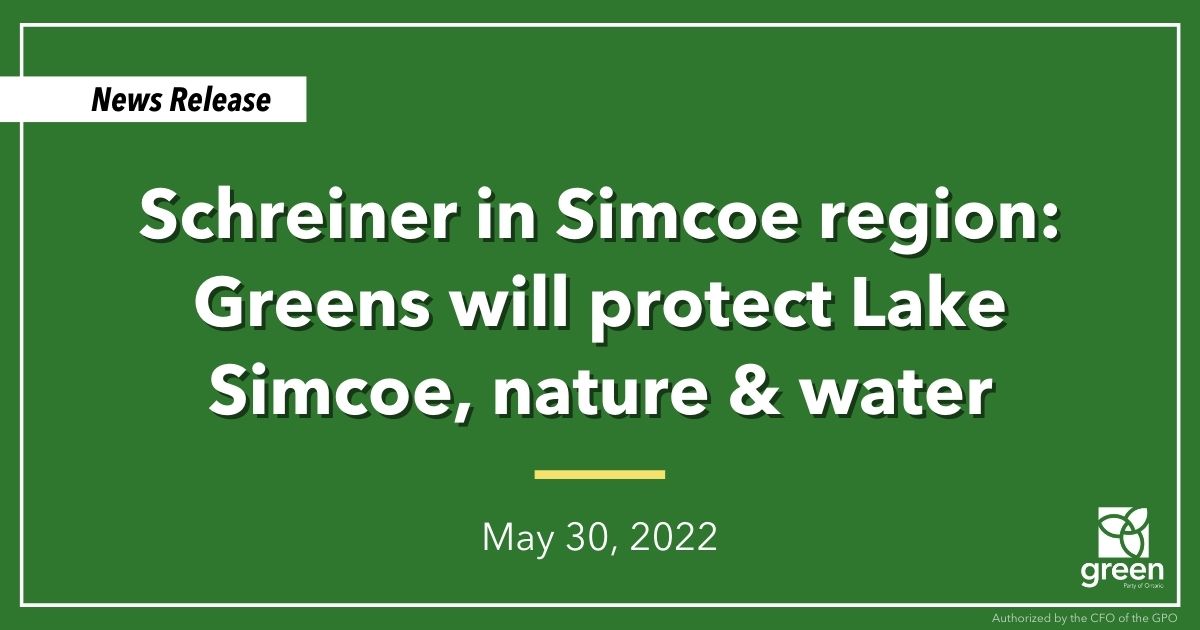 TORONTO — Leader Mike Schreiner visited the Simcoe region today as part of his homestretch tour: The Final Charge.
"There is urgency in this campaign," Schreiner said. "This election comes at a critical time. We face a climate crisis that the other parties simply deny or offer up half measures that won't provide the real solutions people need."
At a tour stop In downtown Barrie near Lake Simcoe, where he was joined by local candidates Bonnie North (Barrie-Innisfil) and Elyse Robinson (Barrie-Springwater-Oro-Medonte), Schreiner stressed the importance of protecting Lake Simcoe.
"Lake Simcoe is so vital to the health and economy of this region," Schreiner said. "It's already severely at-risk from Ford's sprawl agenda. Yet Ford wants to build more destructive sprawl projects like the Holland Marsh Highway which will ramp up phosphorus runoff into the lake and pollute groundwater in the watershed."
In addition to polluting Lake Simcoe, the Holland Marsh Highway will also pump 87 million kilograms of climate pollution into the air each year, slice right through the Greenbelt, and pave over 42 acres of the fertile Holland Marsh.
Ontario Greens will immediately cancel all plans for the Holland Marsh Highway, cut phosphorus entering Lake Simcoe to 44 tonnes by 2026, support the creation of a phosphorus recycling facility, and permanently protect the Lake Simcoe watershed under a newly created Bluebelt of protected waterways.
At another stop at the site of the former tree seedling plant in Angus alongside local candidates Allan Kuhn (Simcoe-Grey) and Krystal Brooks (Simcoe North), Schreiner further highlighted the importance of protecting nature and water, expanding green infrastructure and addressing the housing crisis in a way that protects our natural heritage.
"Together we can crush climate pollution, protect nature and stop the sprawl. We can build a climate-ready Simcoe and Ontario."
"We must say no to paving over our precious lakes, farmlands, wetlands and forests. We have to protect the people and places we love."
"Let's get out there and make history by electing more Green MPPs!"
Schreiner will continue his homestretch tour: The Final Charge in Parry Sound–Muskoka tomorrow with candidate Matt Richter.
-30-