For more information, please contact
Cecilia Stuart
Mike Schreiner kicks off Ontario Greens' Dufferin-Caledon campaign with rally in Orangeville
May 4, 2022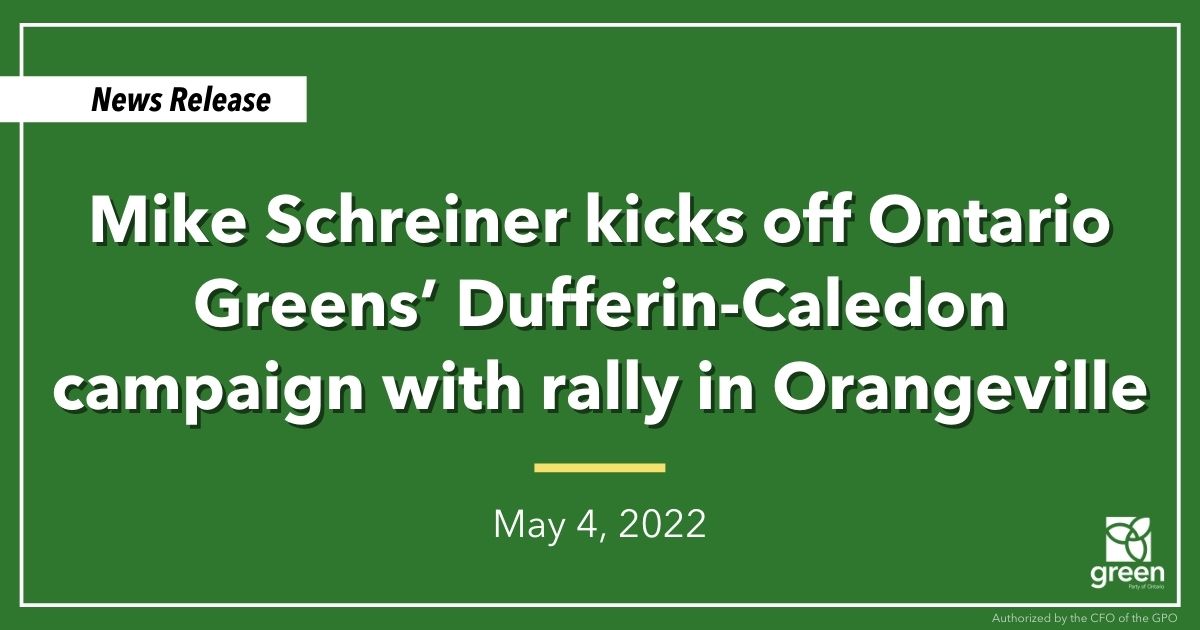 ORANGEVILLE — Leader Mike Schreiner kicked off the Ontario Greens' Dufferin-Caledon campaign alongside local candidate Laura Campbell today in Orangeville.
"We have to act now," Schreiner said. "We're in a climate emergency and a housing affordability crisis. The half measures and no measures of the old line parties won't cut it. Ontario Greens have real, new solutions to the old problems facing the people of Dufferin-Caledon."
"Ontario Greens will stop the sprawl by cancelling Highway 413 and build livable and affordable communities instead," Schreiner said. "Sprawl is expensive, bad for the environment, bad for food security, bad for our health and makes us more vulnerable to the impacts of the climate emergency by destroying the wetlands that protect us from flooding."
According to a recent Region of Peel Council's staff report, local officials listed the very real possibility of the Ford government overruling them if they didn't vote to expand the urban boundary. "Doug Ford is trampling over municipalities to impose his pro-sprawl agenda," Schreiner said.
"For months I've been hearing from local residents about their concerns of the government's plans to pave over the Greenbelt, destroy prime farmland, and continue pushing their sprawl agenda," Ontario Greens candidate for Dufferin-Caledon Laura Campbell said.
"People are worried about the future of our community — who will care for their aging parents? Where will their children afford to live? Lack of affordable housing options are forcing people into long, expensive commutes."
Ontario Greens were the first party to oppose Highway 413 after the Ford government revived plans for it, and have been leading on the issue for years. Schreiner recently announced that Ontario Greens will cancel Highway 413 and create a dedicated truck lane on the 407 instead.
-30-