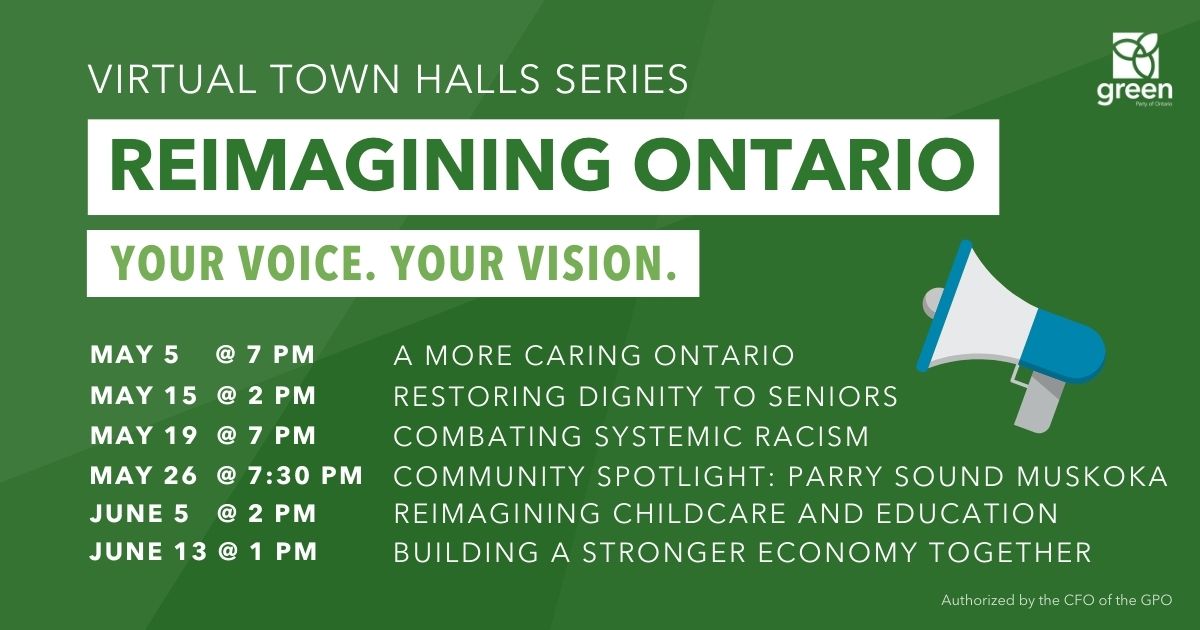 TORONTO — The Green Party of Ontario is proud to announce the launch of its Platform Town Hall Series, Reimagining Ontario: Your Voice, Your Vision.
These virtual town halls, which are open to all members of the public, will engage with the community on a number of key policy areas to help shape the Green Party platform for the 2022 election.
"As we work towards building a greener and more caring Ontario, the Green Party is committed to hearing and understanding the needs of local communities," said GPO Campaign Chair Becky Smit.
"Our goal with this initiative is to create opportunities for meaningful discussion about people's concerns and visions, so we can better represent their voices at Queen's Park."
The town halls will take place throughout the months of May and June 2021 on the following topics:
A More Caring Ontario (May 5th, 7pm)
Restoring Dignity for Seniors (May 15th, 2pm)
Combating Systemic Racism (May 19th, 7pm)
In the Community: A Spotlight on Parry Sound–Muskoka (May 26th, 7pm)
Reimaging Childcare and Education (June 5th, 2pm)
Building a Stronger Economy Together (June 13th, 1pm)
The sessions will be hosted by Green Party of Ontario Leader Mike Schreiner and will feature guest speakers with expertise in the relevant topic areas.
The GPO has enlisted the help of The Ford Global Group to help organize this public engagement campaign.
Green Party finance critic, Stacey Danckert and Deputy Leader, Abhijeet Manay are leading the platform development for the party as co-chairs.
More details on the Town Hall Series, including how to register, can be found on the GPO website.