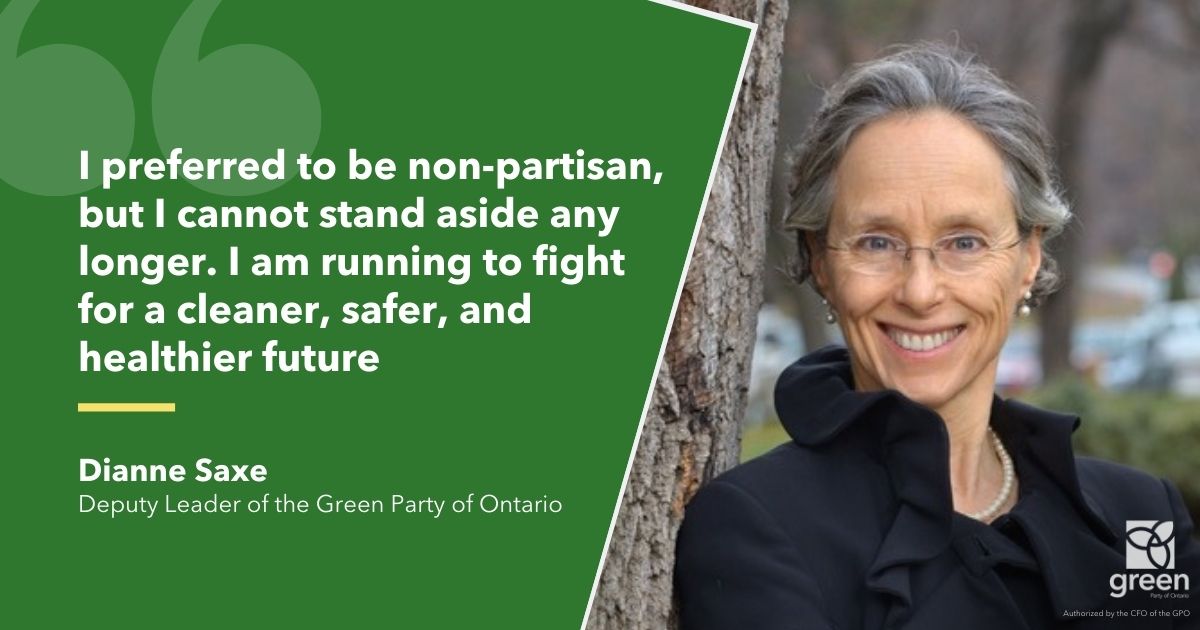 TORONTO, ON — The Green Party of Ontario is pleased to announce that Ontario's Environmental Commissioner from 2015 to 2019, Dianne Saxe, has been appointed as Deputy Leader.
Saxe is also running uncontested for the party's nomination in the downtown Toronto riding of University-Rosedale, with a vote taking place on November 30.
"Now is the time for more Green voices at Queen's Park. Doug Ford's tenure has been marked by a relentless attack on Ontario's environment. He replaced climate action with greenwashing and consistently puts profit before people and planet," said Saxe.
"I preferred to be non-partisan, but I cannot stand aside any longer. With others across Ontario, I am running to fight for a cleaner, safer, and healthier future," she added.
As the province's environmental watchdog, Dr. Saxe was the guardian of the Ontario Environmental Bill of Rights, delivering 17 reports on environment, energy, and climate. The Ford government passed special legislation to abolish her position after she criticized its destructive climate policies.
"I am honoured that Dr. Saxe is joining our team for the 2022 provincial election," said Green Party leader, Mike Schreiner.
"When it comes to solving the biggest environmental challenges we face, there is no one more competent than Dr. Saxe. Her decision to run as a Green reflects how effective our party has been since securing our first seat at Queen's Park," he added.
Saxe is the first candidate the party has confirmed for the 2022 election. Greens will be running a full slate of candidates across all Ontario ridings.
Watch Mike & Diane LIVE at 7pm
About Dianne Saxe
Dr. Saxe is one of the world's leading environmental lawyers and has been recognized provincially and globally for her work.
As a practicing lawyer, she represented community groups protesting acid mine drainage and logging of old growth forest, and obtained $115 million for municipalities in bitterly contested arbitration over the Blue Box program.
She currently practices law, focussing on the climate crisis, and serves as the Chair of Toronto City Council's climate advisory committee.
More information at www.saxefacts.com and on Wikipedia.