For more information, please contact
John Chenery
Green Party leaders discuss vision for Ontario's economy
June 14, 2021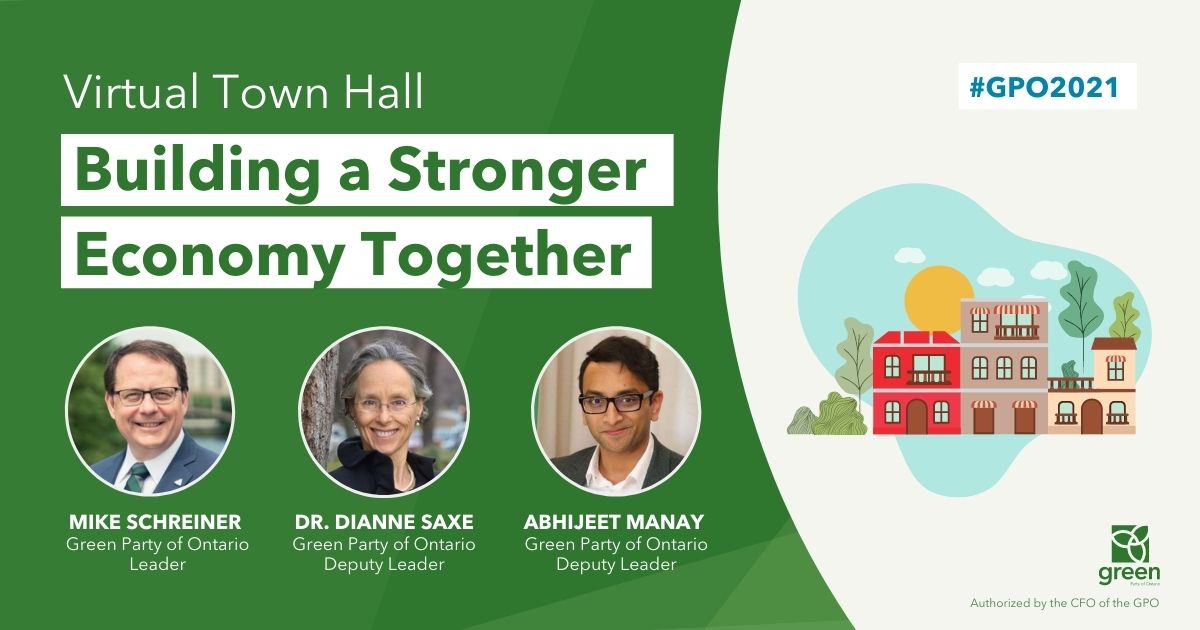 TORONTO — Yesterday at the Green Party of Ontario Convention, Leader Mike Schreiner joined Deputy Leaders Dianne Saxe and Abhijeet Manay in a virtual town hall to discuss their vision for the future of Ontario's economy.
This event notably marked the first time the three leaders sat down (virtually) together to publicly share their vision ahead of the 2022 election. Laura Campbell, GPO candidate for Dufferin-Caledon, moderated the event.
The town hall focused on how Ontario can kickstart an economic recovery from COVID and best seize the opportunity of the green economy in a way that works for everyone.
"We need a just recovery where we are putting people's health and well-being first," said GPO Deputy Leader Abhijeet Manay. "It's essential for a healthy economy. Investments in health care are crucial."
Noting the disproportionate impact that the pandemic has had on women — and in particular mothers — GPO Leader Mike Schreiner highlighted how economic recovery must focus on addressing the she-cession.
"It doesn't make sense that the Ford government, who seems so focused on the economy, is not focused on schools, child care, home care and other women-led industries that are absolutely key to our economy."
GPO Deputy Leader Dianne Saxe stressed the urgency of a green transition for Ontario's economy. "Pretending that the short-term economy is all that matters without caring about the environment is a recipe for disaster," she said. "We still have an opportunity to make both things better. But we have to start right now."
The GPO Leaders also discussed other key policies, including a 5 billion retrofit building program that would save people money by saving energy, leverage $80 billion in capital investment and create over 800,000 jobs retrofitting homes and buildings; as well as the need for basic income security to address the social assistance gap in the province.
This was the final town hall of the GPO's Platform Town Hall Series, Reimagining Ontario: Your Voice, Your Vision. The virtual series was hosted by GPO Leader Mike Schreiner and engaged with the community on a number of key policy areas to help shape the Green Party platform for the 2022 election.
You can find the full recording from the town hall via this link.
-30-