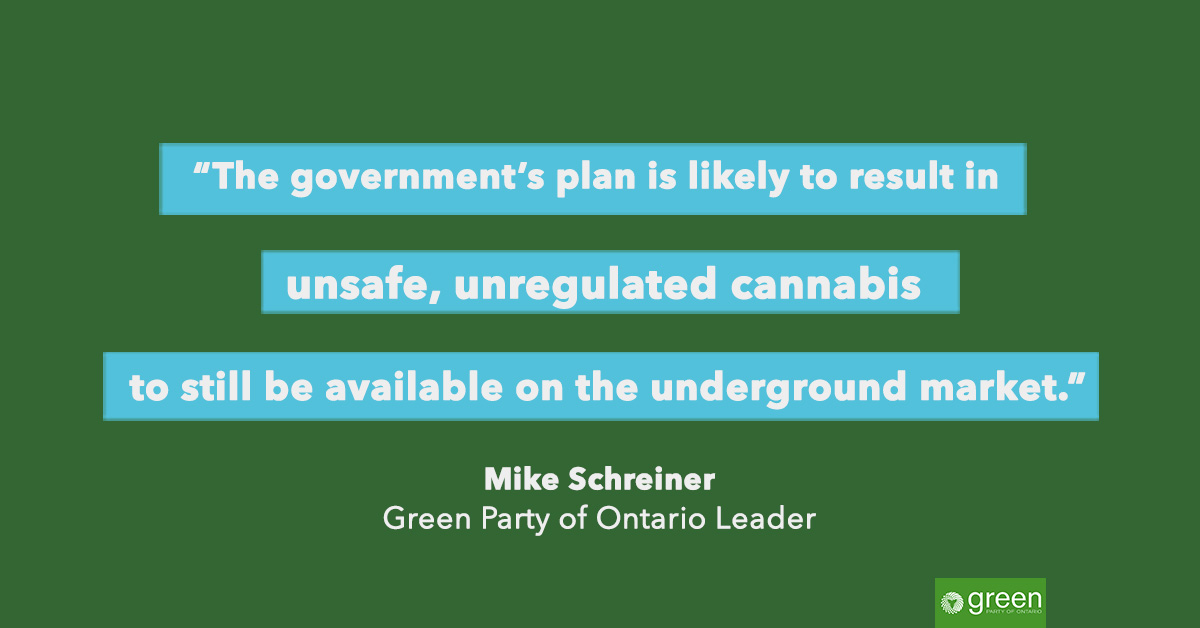 Green Party of Ontario Leader Mike Schreiner supports efforts to keep cannabis retailers away from schools. But he is calling on the Liberals to stop the government-monopolization of marijuana, which will do nothing to stop the underground market for cannabis.
The Liberals sent letters today to all Ontario municipalities saying the government-owned LCBO will try to reduce the number of existing dispensaries as it helps identify which towns and cities will get government-run cannabis stores.
"The Liberals' approach seems to ramp up criminalization of pot outside the government monopoly, which undermines the reasons for legalizing it in the first place." said Schreiner.
"There is a better way – highly regulated and licensed local businesses to allow local farmers, small businesses and Indigenous groups to participate in the market, creating local jobs and contributing tax dollars to local communities across the province."
The Liberals current plan to open only 40 stores next year with a maximum of 150 across the province will not be enough to meet demand or combat the underground market.
"The government's plan is likely to result in unsafe, unregulated cannabis to still be available on the underground market," warned Schreiner.
The GPO is calling for a system that:
1. Regulates and licenses small businesses and dispensaries to sell cannabis in a safe and controlled way;
2. Ensures tax revenues from cannabis sales are used to fund education, mental health and addiction programs;
3. Creates more local jobs and prosperity by supporting small businesses, local farmers, and indigenous communities.
Read Schreiner's open letter to Ontario cabinet ministers at gpo.ca/stop-monopolization-marijuana
Sign our petition to stop the monopolization of cannabis.