For more information, please contact
Cecilia Stuart
Doug Ford's Big Box, Big City agenda hurts Parry Sound–Muskoka small businesses
May 31, 2022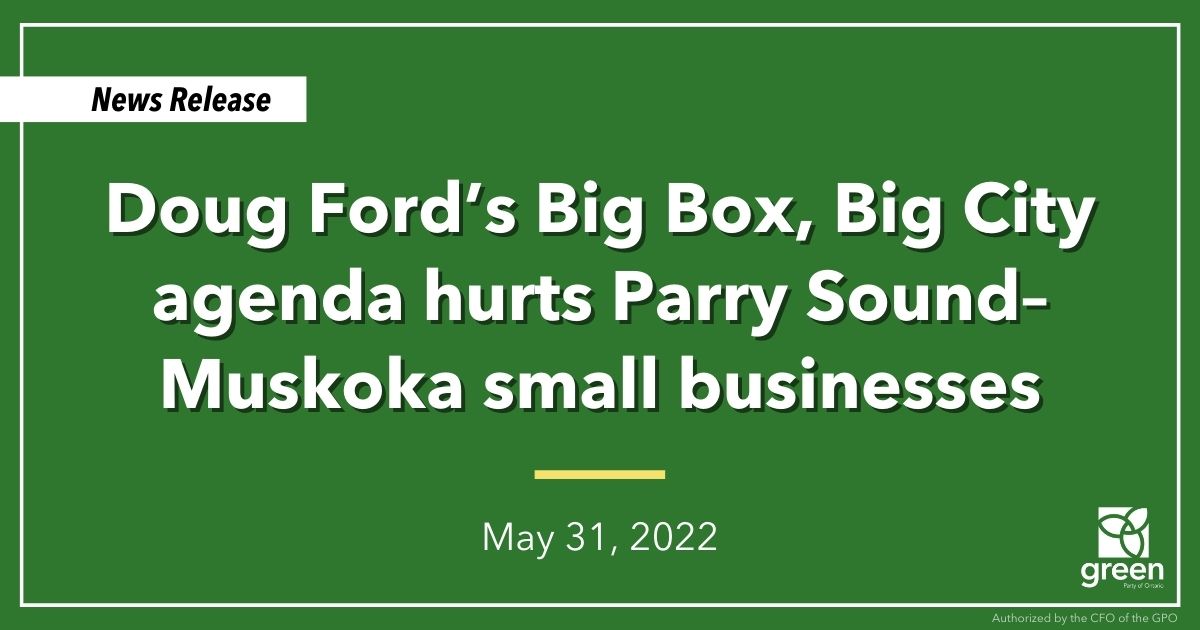 PORT SYDNEY — Doug Ford's Big Box, Big City agenda is hurting Parry Sound-Muskoka small businesses. Unlike the Doug Ford PCs, Ontario Greens will stand up for local small businesses in the community.
"Doug Ford will roll out the red carpet for the Amazons of the world, but when it comes to supporting local small businesses, it's radio silence," Ontario Greens Leader Mike Schreiner said.
Schreiner led the way at Queen's Park throughout the pandemic, calling for immediate and sustained supports when small businesses were hard-hit due to lockdowns. But Doug Ford instead chose to favour superstore chains over local small businesses.
"As a small business owner, I can tell you that many local shops needed, and continue to need, support," candidate for Parry Sound–Muskoka Matt Richter said. "But when help was needed the most, they were left out to dry."
The Ontario Greens' Mainstreet Strategy to help local Parry Sound–Muskoka small businesses recover and thrive will:
Expand the Digital Main Street program to include nonprofit organisations and provide fulfilment platforms that better enable small, local businesses to compete with large online companies.
Support additional funding and expansion of the staycation tax credit and ensure it includes dining at restaurants.
Undertake a review of regulations in order to weed out red tape and costs that disproportionately affect small businesses.
Create and enforce rent control guidelines for year-over-year increases that apply to all commercial tenants, including new tenants
Change the regulations to allow boutique wine, craft beer and artisan spirit retail outlets to open legally, including independent, off-site stores opened by craft producers.
Expand programs to help Black, Indigenous and other racialized entrepreneurs start or grow their business.
Richter also highlighted the struggle to find workers that many small businesses are facing — which links directly to the lack of affordable housing supply in the region.
"I hear from so many small businesses that they simply can't find staff to hire, because prospective workers can't find an affordable place to live in the region," Richter said. "And as we head into the busy summer season that's so vital for local shops, that's going to mean missed revenue and sales. That's why Ontario Greens are committed to aggressively tackling the housing affordability crisis, including building 1,000 affordable rental homes right here in Parry Sound–Muskoka."
"We have new, local solutions to the old problems facing the communities of this riding," Schreiner said. "On supporting local small businesses, on expanding healthcare options and treating frontline health-care workers with respect, on improving education and protecting nature. We have the leadership to build the Parry Sound–Muskoka you want. We hear your concerns and Matt will be your voice at Queen's Park, not the party's voice in Parry Sound-Muskoka."
-30-