Use your postal code to find your MPP:
Support the first ever Green legislation in Ontario
It's long past time to Protect our Water. Mike Schreiner wants to take the first step.
His Private Member's Bill would protect the Paris Galt Moraine, which purifies clean drinking water for nearly 200,000 people in southern Ontario.
Guelph is one of the largest cities in Canada to rely solely on groundwater for its water supply. But this is under threat from drought, climate change, urban sprawl and reckless industry. If we don't take action now to protect this drinking water source, it could be lost forever.
Help Mike protect Ontario's water.
Email your MPP to show your support of the Paris Galt Moraine Conservation Act.
About the Paris Galt Moraine
The Paris Galt Moraine is an essential water recharge area in Ontario's largest watershed, the Grand River watershed. It filters and purifies drinking water in a region expected to grow by one million residents by 2041.
The moraine is under increasing strain from development pressures, commercial water demands and severe weather brought on by climate change. Without protection, it could lose the ability to provide clean drinking water, devastating communities and creating a huge financial burden.
If passed, the Paris Galt Moraine Conservation Act would regulate land use in the area, ensuring the ecological health of the moraine is safeguarded. It would trigger the creation of a conservation plan, bringing together all stakeholders to protect the moraine for generations to come.
The first Green legislation in Ontario is about putting people and planet above profit.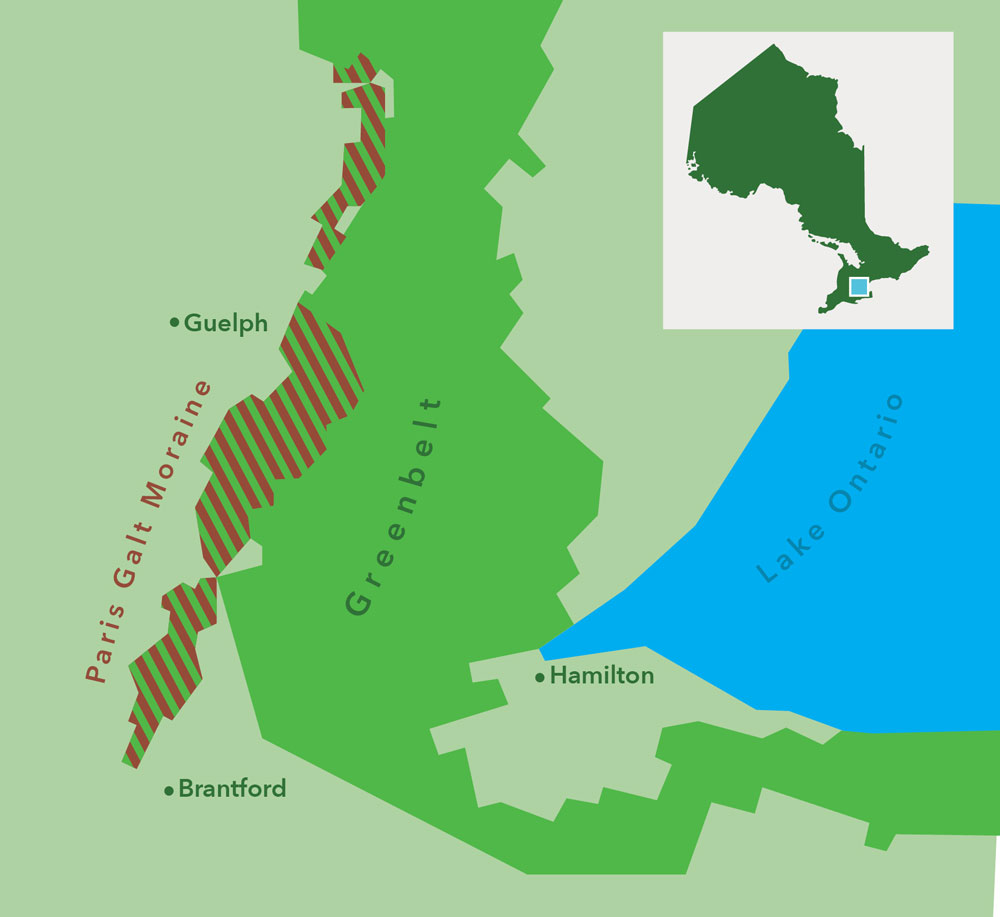 Spread the Word
Help us spread the word by sharing this page on your social networks.
[social network=facebook link=https://www.facebook.com/sharer/sharer.php?u=https://gpo.ca/protect-the-paris-galt-moraine][/social] [social network=twitter link=https://twitter.com/intent/tweet?text=Help%20@mikeschreiner%20protect%20Ontario%27s%20water.%20Tell%20your%20MPP%20that%20you%20support%20the%20Paris%20Galt%20Moraine%20Conservation%20Act.%20https://gpo.ca/protect-the-paris-galt-moraine%20%40OntarioGreens][/social] [social network=email link="?subject=Help%20Mike%20Schreiner%20protect%20Ontario's%20water.%20Tell%20your%20MPP%20that%20you%20support%20the%20Paris%20Galt%20Moraine%20Conservation%20Act.&body=It%E2%80%99s%20long%20past%20time%20to%20expand%20the%20Greenbelt%20%2F%20Protect%20our%20Water.%20Mike%20Schreiner%20wants%20to%20take%20the%20first%20step.%0A%0AHis%20Private%20Member%E2%80%99s%20Bill%20would%20protect%20the%20Paris%20Galt%20Moraine%2C%20which%20purifies%20clean%20drinking%20water%20for%20nearly%20200%2C000%20people%20in%20southern%20Ontario.%0A%0Ahttps%3A%2F%2Fgpo.ca%2Fprotect-the-paris-galt-moraine%2F"][/social]