For more information, please contact
Cecilia Stuart
Ignacio Mongrell nominated as Ontario Greens candidate in York South—Weston
April 28, 2022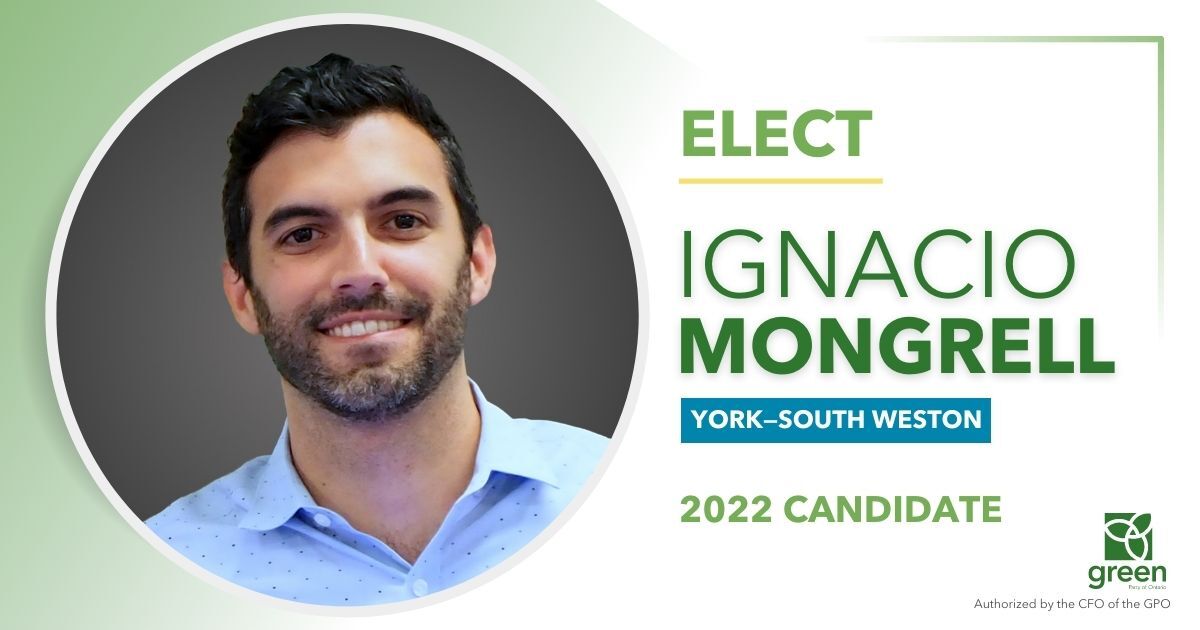 TORONTO — The Green Party of Ontario is proud to announce that Ignacio Mongrell has been nominated as its candidate for York South-Weston ahead of the 2022 provincial election.
Mongrell is a husband, environmentalist, and entrepreneur who proudly identifies as queer. He has worked with entrepreneurs for over 12 years at the Waterloo Accelerator Centre as Director of Client Services and at Haltech Regional Innovation Centre supporting clients and community members. He is currently the Assistant Director at ICUBE, a business accelerator program at the University of Toronto.
"I'm passionate about finding solutions to transition Ontario to a greener future," Mongrell said. "There's so much potential to have thriving green businesses and entrepreneurs in Ontario — but we need the political will to make it happen."
"Ignacio will help bring Toronto and Ontario into the new climate economy," Ontario Greens Leader Mike Schreiner said. "He's a successful entrepreneur who understands the value of innovation and knows what support is needed to scale local green businesses into global leaders."
Originally from Uruguay, Ignacio moved to Canada in 2010 and earned a Master's of Business, Entrepreneurship and Technology from the University of Waterloo. He currently serves as the Chair of Positive Space at the University of Toronto Mississauga, where he advocates for LGBTQ2S+ students, staff, and faculty.
-30-