For more information, please contact
Cecilia Stuart
Colleen McCauley nominated as Ontario Greens candidate in London West
May 6, 2022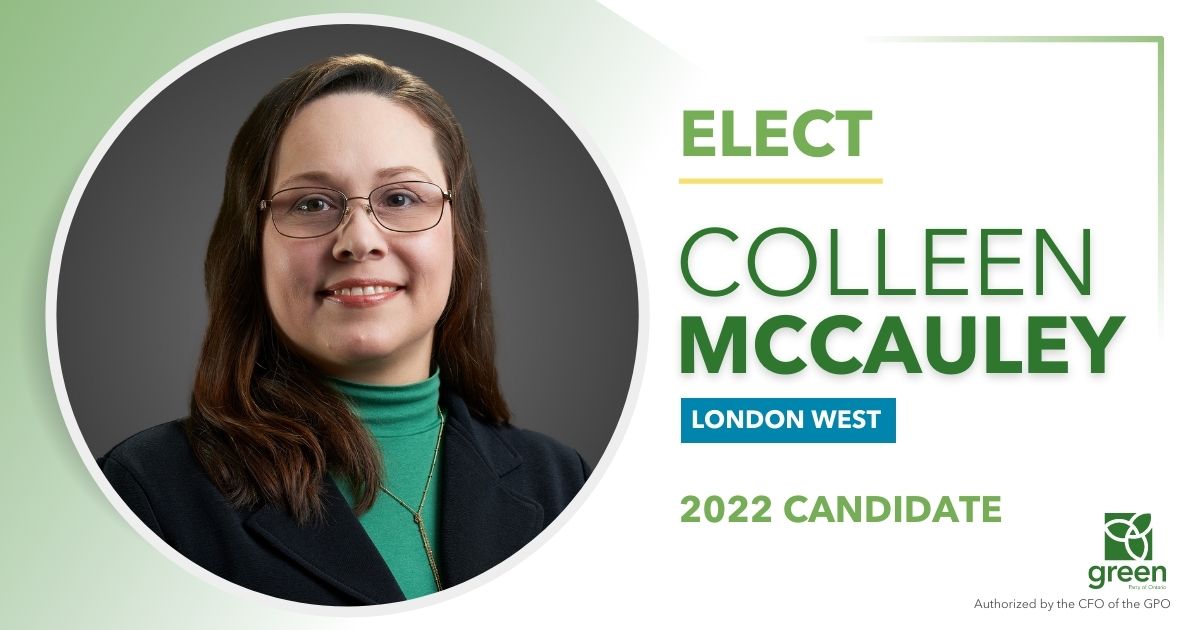 LONDON WEST — The Green Party of Ontario is proud to announce that Colleen McCauley has been nominated as its candidate for London West ahead of the 2022 provincial election.
McCauley has lived in the London West riding for 12 years. As a marketing communications professional and small business owner with previous experience in the Office of the Environmental Commissioner of Ontario and the Ministry of the Environment, she has spent her career communicating about the importance of sustainable practices and protecting the environment.
"Colleen has dedicated her professional life to building a greener, more sustainable Ontario, " Ontario Greens Leader Mike Schreiner said. "She knows how to get the message out about the importance of climate action and resonate with the people of London."
"I'm committed to addressing the local impacts of the climate emergency by building sustainable and inclusive communities," McCauley said. "And the Ontario Greens' masterclass housing plan does just that. I'm excited to put policy into action as a Green MPP."
McCauley holds an Bachelor of Arts (Honours) degree in Geography (Environment and Resources Management) from Western University and a Business-Marketing diploma from Fanshawe College. She has also participated in training to create inclusive environments for people facing barriers to fair representation, particularly those with disabilities.
McCauley is a small business owner and board director for her high school's alumni association. In her spare time, she enjoys walking around London West's neighbourhoods and parks, photographing nature, and exploring activities that revitalize her knowledge, health, and spirit.
-30-