For more information, please contact
John Chenery
Doug Ford's 1950s Sprawl Budget will cost Ontarians with their wallets and their health
April 28, 2022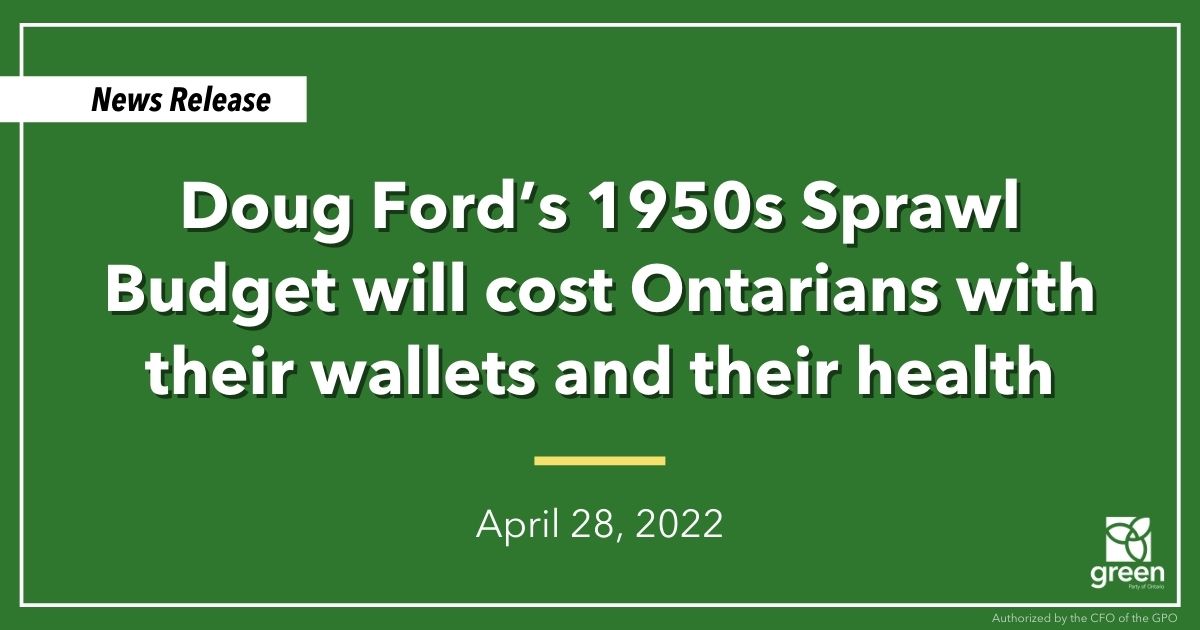 QUEEN'S PARK — Mike Schreiner made the following statement in response to the Ford government's budget:
"Doug Ford just announced a 1950s-era Sprawl Budget that is taking us backwards and setting Ontario up for an expensive, unhealthy province that will pave over our children's future.
We're in a climate emergency and a cost of living crisis. But Doug Ford wants to pump a staggering $25 billion into more highways and sprawl that will pollute the air, make life even more expensive, pave over the farmland that feeds us and destroy the nature that protects us from flooding.

The fact the cover of the budget is literally a picture of a highway tells you all you need to know about Doug Ford's anti-climate, pro-sprawl agenda.
Highway 413 alone will pump 17.4 megatonnes of climate pollution into the air by 2050— that's more than the entire City of Toronto emitted in 2018. This will pollute the air we breathe, harm our health, and is estimated to lead to $1.4 billion dollars in cumulative damages from air pollution by 2050.
We need to Stop the Sprawl and make life more affordable.

And that won't happen if we force people into expensive commutes just to find a place to live.
Ontario Greens have real solutions to build the Ontario you want and we have the leadership to make it happen. We'll make life more affordable and tackle the climate emergency by building livable, affordable communities and crushing climate pollution — instead of licence plate sticker election gimmicks and more sprawl that will make life more expensive."
-30-