For more information, please contact
Cecilia Stuart
Funding for Northlander passenger rail should be included in Spring Budget
March 14, 2022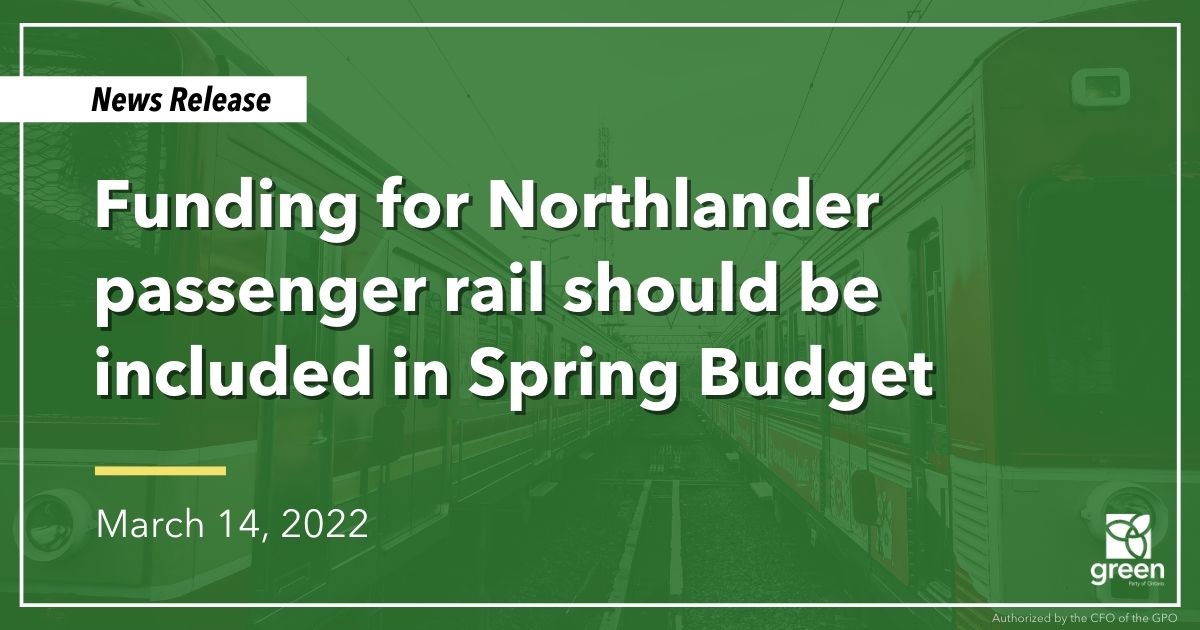 MUSKOKA — Ontario Greens are calling on the Ford government to include funding for the Northlander passenger rail in the upcoming spring budget.
"It's been talk and no action from Doug Ford so far on passenger rail," said Ontario Greens' candidate for Parry Sound—Muskoka Matt Richter.
In 2018, Doug Ford made a campaign promise to restore the Ontario Northlander, which was discontinued in 2012 by the Liberal government. But so far, no progress has been made beyond a $5 million commitment to a business plan study.
"It's time for the Ford government to put money on the table and actually make affordable passenger rail a reality," Richter said.
"Transportation is a huge issue in our community. And getting the Northlander back on the tracks would help connect the Parry Sound–Muskoka riding, make life more affordable for people, and tackle the climate emergency by reducing emissions."
With gas prices soaring, many Ontarians are looking to alternative transportation options, including transit, but are unable to access affordable options.
"Let's get moving on building a greener, more affordable and more connected Parry Sound–Muskoka and Ontario," Richter said.
Ontario Greens are committed to getting the Northlander back up and running and have allocated funding to it in their Roadmap to Net-Zero climate plan.
-30-