For more information, please contact
John Chenery
Adriane Franklin nominated as Ontario Greens candidate in Mississauga Centre
April 18, 2022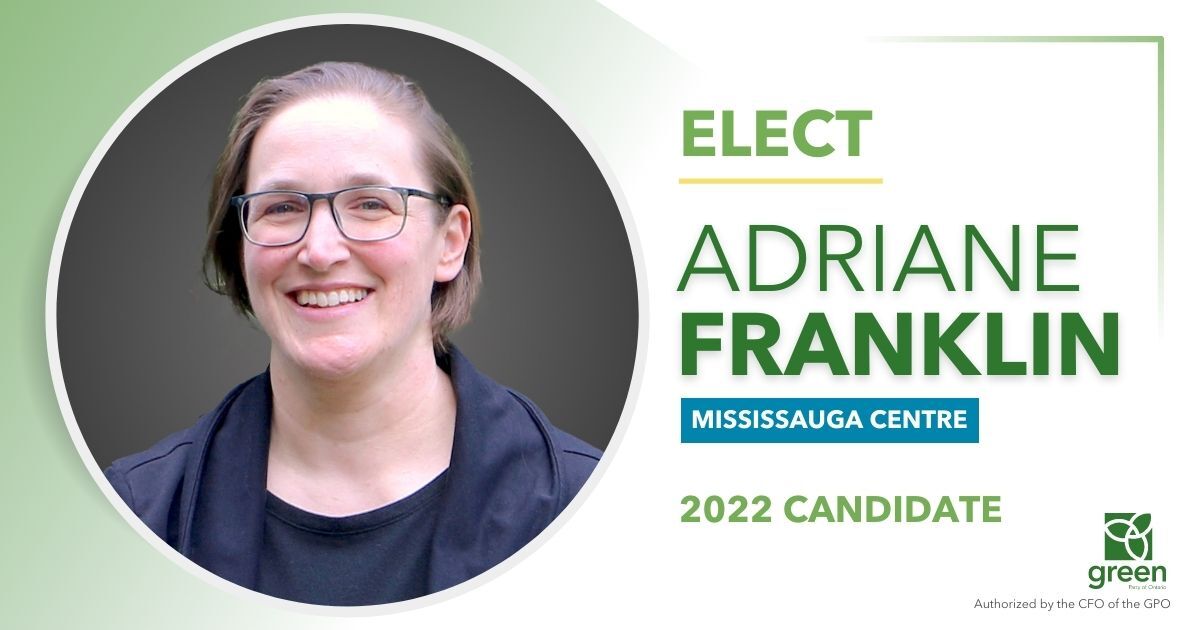 MISSISSAUGA — The Green Party of Ontario is proud to announce that Adriane Franklin has been nominated as its candidate for Mississauga Centre ahead of the 2022 provincial election.
As a long-time resident of Mississauga and committed volunteer, Franklin is deeply aware of the challenges facing her local community.
"Adriane is already dedicated to improving quality of life for the people of Mississauga," Ontario Greens Leader Mike Schreiner said. "Becoming MPP for Mississauga Centre is a natural next step."
Passionate about education and skills and leadership development among girls, Franklin is a Girl Guide leader, the chair of her children's school councils, and the primary lead for the 'Days for Girls' Mississauga team.
"We need urgent action if we want Mississauga and Ontario to be healthy and accessible places to live now and in the future," said Franklin. "On housing, education and mental health action, Ontario Greens have the leadership and policies to make it happen."
Franklin works as a supply business, economics and math teacher. Earlier on in the pandemic, she also volunteered at vaccination clinics and delivered groceries through The Good Neighbour Project.
-30-