For more information, please contact
John Chenery
Schreiner tables Gravel Mining Moratorium motion on World Water Day
March 22, 2022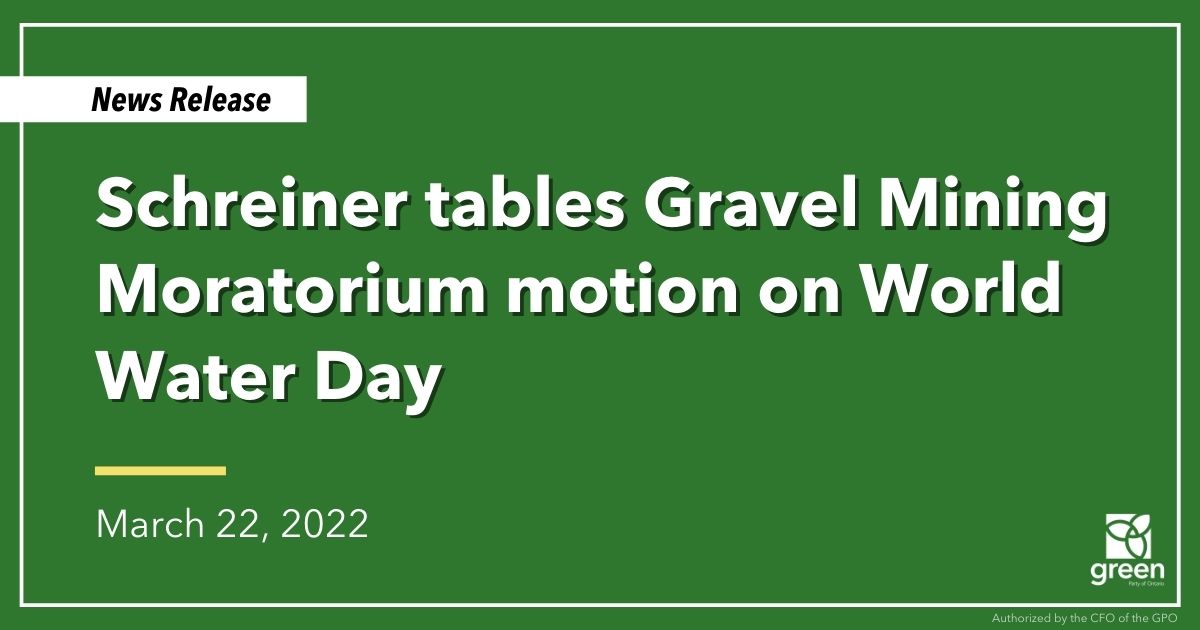 QUEEN'S PARK — Ontario Greens Leader and MPP for Guelph Mike Schreiner tabled a legislative motion today calling for an immediate moratorium on all new gravel mining permits.
"The biggest threat to water in Ontario is gravel mining and sprawl," Schreiner said at a World Water Day rally on the Queen's Park lawn.
"As the climate emergency worsens, Ontario needs to protect our water supplies before the situation becomes more costly. We need a moratorium now. More delays will cost us with our wallets and our health — both now and for future generations."
But instead of stepping up and protecting water, Doug Ford has weakened regulations protecting water from gravel mining.
"You can't drink gravel and concrete," Schreiner said. "There is a direct connection between Ford's sprawl agenda, gravel mining and climate pollution".
"Ontario Greens will continue to lead the way on protecting water," said Schreiner. "Whether it's working with local activists to save Duffins Creek, leading the charge against Highway 413 and the Holland Marsh Highway, or taking a stand against pipelines in the Great Lakes."
Last year, Greens were the only party to vote against the Line 5 pipeline that puts the Great Lakes at severe risk from pollution.
For more information on the Ontario Greens' commitment to protecting water: gpo.ca/climate/water.
-30-