For more information, please contact
Cecilia Stuart
Greens table legislative motion to halt Greenbelt destruction, protect farmland, and build housing within urban boundaries
November 21, 2022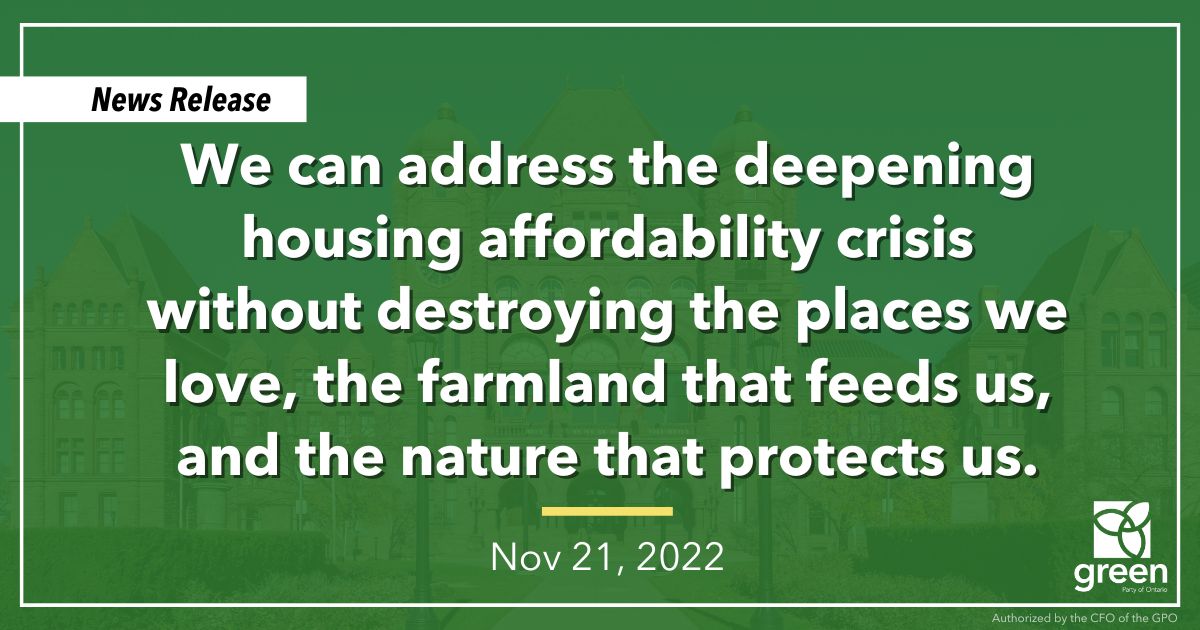 TORONTO — Ontario Greens leader and Guelph MPP, Mike Schreiner, released the following statement after tabling a motion in the legislature today calling on the Ford government to immediately halt plans to open up the Greenbelt to development.
"People want Doug Ford to keep his promise not to develop the Greenbelt.
We can address the deepening housing affordability crisis without destroying the places we love, the farmland that feeds us, and the nature that protects us.
A report from the government's own Housing Affordability Task Force stated categorically: a shortage of land is not the cause of the housing crisis. The task force went on to say that the Greenbelt, along with other environmentally sensitive areas and farms, must be protected.
Ford's broken promise to open the Greenbelt to development flies in the face of his own Housing Affordability Task Force and his repeated commitment  to keep his hands off the Greenbelt.
As recent media investigations show, Ford's singular focus seems to be on helping Greenbelt land speculators and pro-sprawl developers turn millions into billions.
Doug Ford must stop pushing the false narrative that we have to choose between building housing and protecting the environment.
We can build the housing we need where people, especially young people, want to live – in affordable 15-minute communities where they can be close to jobs, family, shops and transit.
That's why the motion I tabled today calls on the government to:
immediately halt plans to open up the Greenbelt for development,
permanently protect prime farmland, and
commit to building at least 1.5 million homes within existing urban boundaries."
-30-
Media contact:
Mehreen Shahid
Press Secretary
mehreenshahid@gpo.ca
437-929-1792
-30-