For more information, please contact
John Chenery
Aneep Dhade nominated as Ontario Greens candidate in Brampton North
March 17, 2022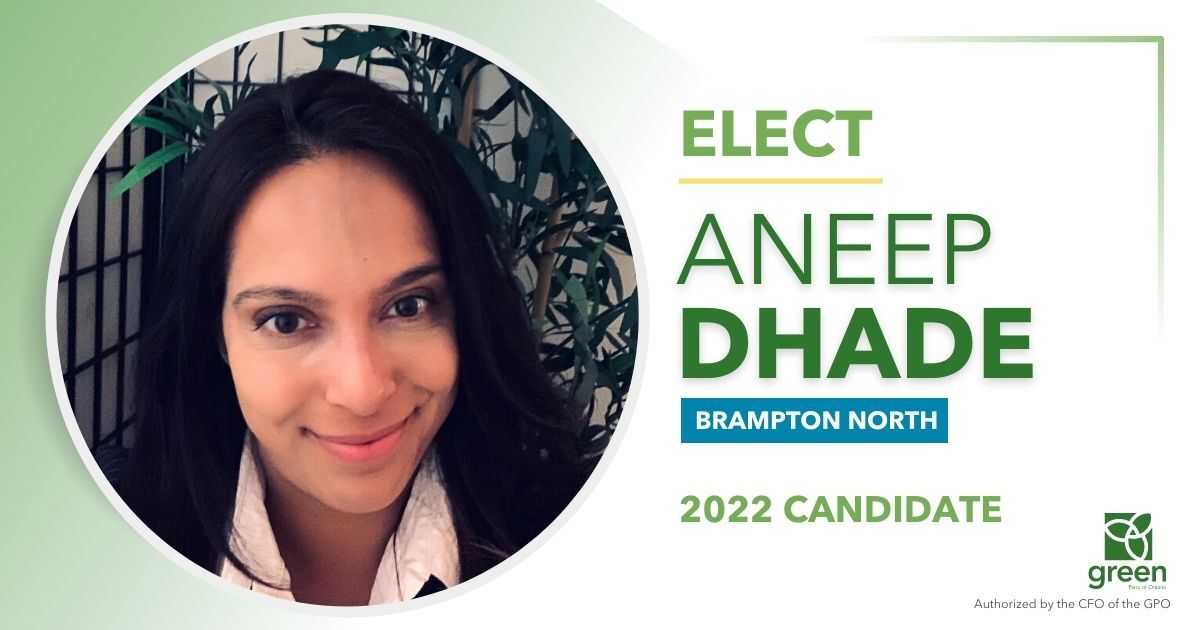 BRAMPTON — The Green Party of Ontario is proud to announce that Aneep Dhade has been nominated as its candidate for Brampton North ahead of the 2022 provincial election.
Raised in Brampton North, Dhade is committed to building a more affordable, livable and prosperous community that takes advantage of the new climate economy.
"Brampton is my home, and I've watched its diverse population blossom over a span of more than thirty years," Dhade said. "There's so much potential here for green jobs, innovation and sustainable planning. I want to be a part of helping shape that for future generations. We can plant seeds now that will help ensure a greener, brighter, more caring future".
"Aneep is a dedicated and experienced public servant," said Ontario Greens Leader Mike Schreiner. "She's a local Bramptonian who authentically understands the top issues facing the region, like housing affordability, mental health and transit."
With more than a decade of experience in the public sector, Dhade has worked at Queen's Park across several Ministries with responsibility for social, health, environmental, infrastructure and intergovernmental policy. She holds an Honours B.A. in Political Science and Psychology and has post-graduate training in Economics.
Dhade is deeply involved as a volunteer in her community and enjoys spending most of her spare time outdoors and in nature.
-30-