For more information, please contact
John Chenery
Cara Des Granges nominated as Ontario Greens candidate in Spadina—Fort York
March 1, 2022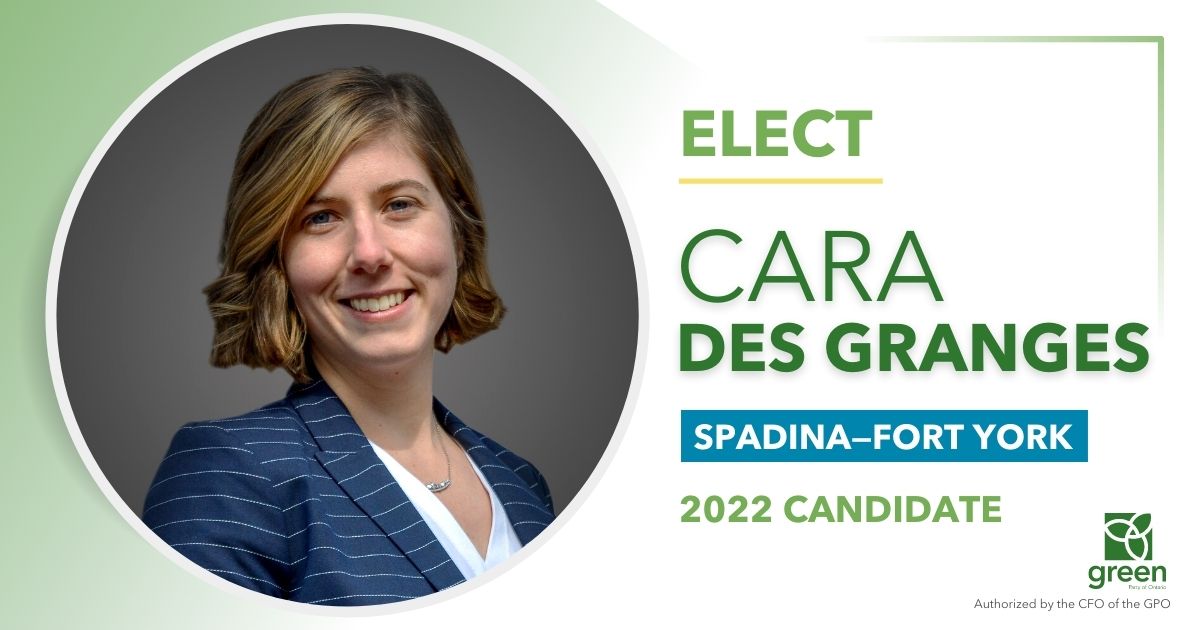 TORONTO — The Green Party of Ontario is proud to announce that Cara Des Granges has been nominated as its candidate for Spadina-Fort York ahead of the 2022 provincial election.
"Cara is deeply knowledgeable and experienced in civic participation and literacy and knows how to mobilize voters for a good cause," said Ontario Greens Leader Mike Schreiner. "She will be a strong, green voice to advocate on behalf of the residents of Spadina—Fort York for evidence-based policies that will benefit Ontarians today and for generations to come."
Des Granges holds a Bachelor's degree in Canadian Studies and Political Science from Carleton University, a Masters degree in Political Science from the University of Alberta and three years of PhD studies in Canadian and Quebec Politics and Public Policy and Administration at Concordia University.
"It's time for real action on climate, housing affordability and health care," Des Granges said. "I'm frustrated with short-sighted government policies and dissatisfied with status quo politicking that consistently misses the mark."
Des Granges has worked in both civil service and the non-profit sector, spending much of her career increasing civic literacy and participation. She currently manages a Canada-wide adult skills research study, which supports education ministers across Canada.
-30-