For more information, please contact
Cecilia Stuart
Nicki Ward nominated as Ontario Green candidate in Toronto Centre
December 17, 2021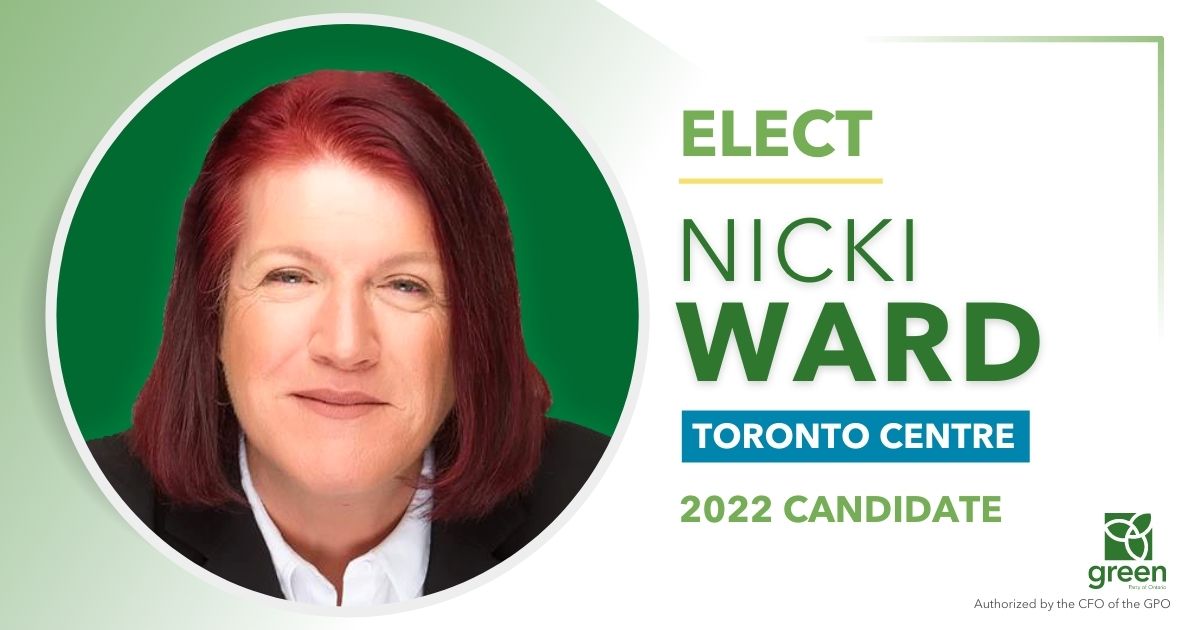 TORONTO — The Green Party of Ontario is proud to announce that Nicki Ward has been nominated as its candidate for the Toronto Centre riding ahead of the 2022 provincial election.
Ward has been involved with Green politics since she was a teenager, when she joined the European Green Movement in the early 1970s. She is a lifelong and successful community advocate, particularly in the areas of 2SLGBTQIA+ rights, disability rights, environmentalism and human rights.
"Enough with the politicians that talk but don't do," Ward said. "We need real action, meaningful changes, and measurable results. And the Ontario Greens are the best party to bring that type of positive change to Toronto Centre."
"Nicki is an extremely well-respected and effective community advocate. It's my honour to welcome her to our team," said Leader of the Ontario Greens Mike Schreiner said. "She has already made Toronto Centre a greener, more caring and more inclusive place through her dedicated advocacy work and would be an incredible representative for her community at Queen's Park."
Ward's advocacy career spans several decades and has intersected with every level of government.
"I see my candidacy with the Ontario Greens as an extension and another platform to continue doing what I already do," Ward said. "And that's standing up for the people of my community and being a voice for those who are not heard."
Ward is a skilled linguist, and in addition to her advocacy work has extensive experience in the private and public sector across Europe, the USA and Canada.
-30-