For more information, please contact
John Chenery
David Weber nominated as Ontario Green candidate in Kitchener South–Hespeler
December 14, 2021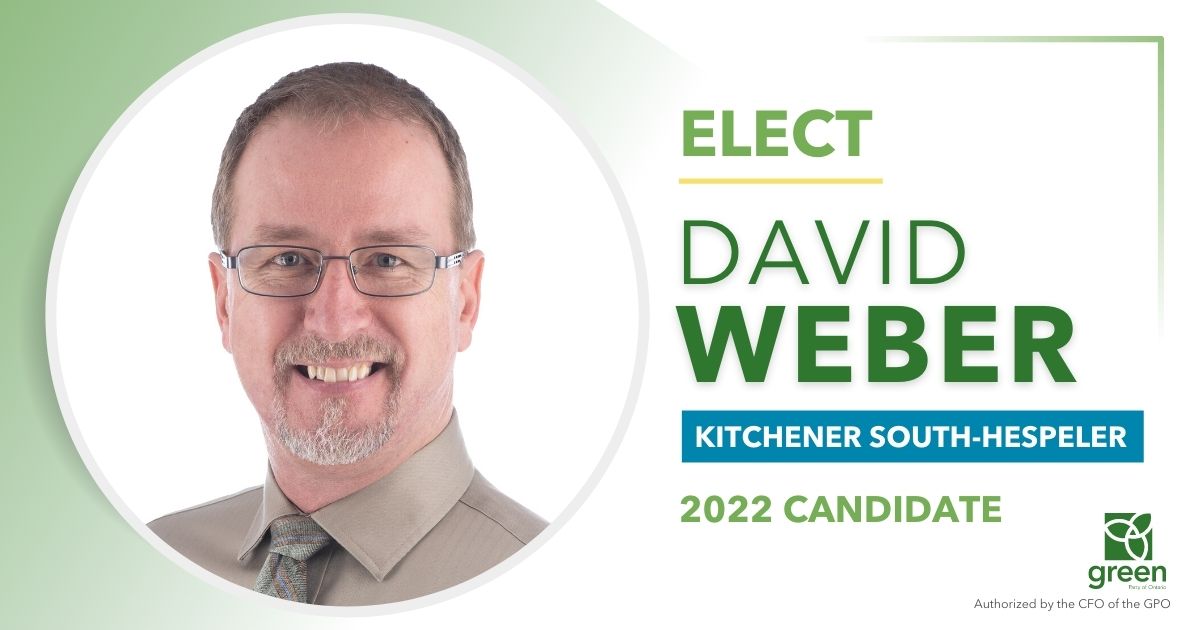 KITCHENER — The Green Party of Ontario is proud to announce that David Weber has been nominated as its candidate for the Kitchener South—Hespeler riding ahead of the 2022 provincial election. He previously ran for the Ontario Greens in the 2014 and 2018 elections.
"I've seen the struggles and inequity that people in this riding face first hand," Weber said. "And it's motivated me to get involved politically so I can help bring change to our community."
Weber previously had a 30 year career as a police officer with the Waterloo Regional Police that was rooted in justice, fairness and compassion.
"We need to work together to end poverty, create a more comprehensive and equitable healthcare system, and most importantly, to protect our planetary health by moving to a clean, green economy," he said. "And the Ontario Greens are the party best positioned to do that."
"David deeply understands the needs and struggles of his riding, and consistently puts the interests of the community ahead of his own," Mike Schreiner, Leader of the Ontario Greens, said. "He would do a fantastic job representing his neighbours at Queen's Park and I'm looking forward to campaigning with him again over the next few months."
Weber is a hiker, nature photographer, landscape painter, and kayaker.
-30-