For more information, please contact
Cecilia Stuart
Ontario Greens will reintroduce pivotal bill to protect Paris Galt Moraine
November 24, 2021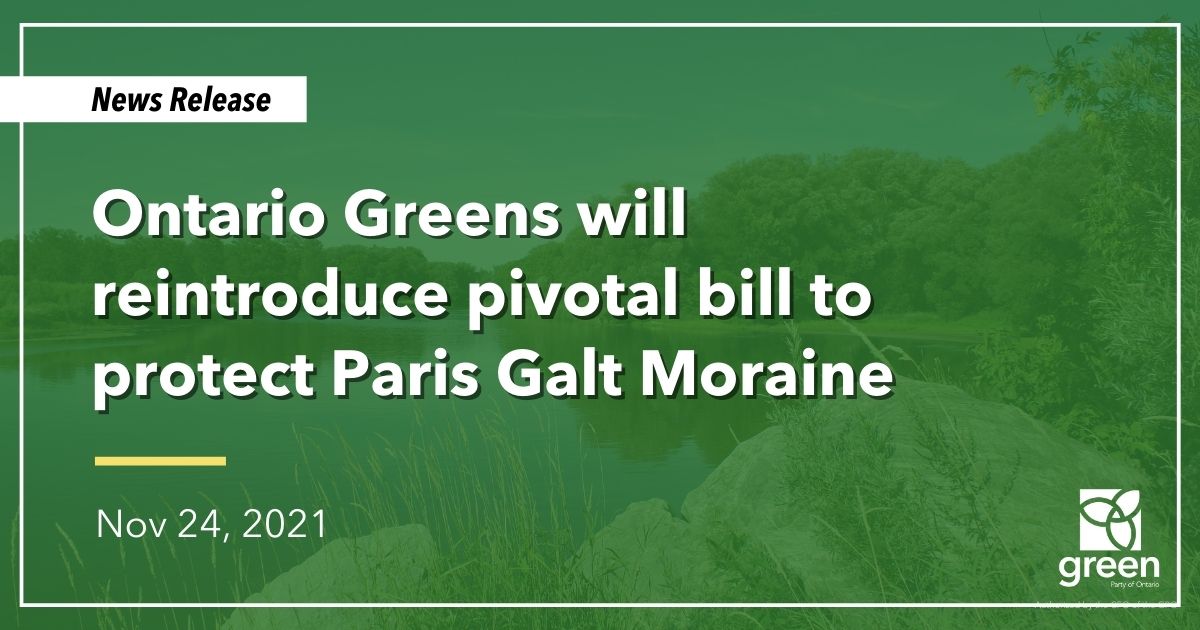 QUEEN'S PARK – This morning, Ontario Green Leader Mike Schreiner reintroduced pivotal legislation to protect the Paris Galt Moraine.
"It is critical that we protect water," Schreiner said. "Both now and for future generations. This bill provides model legislation to protect moraines across the province.
"As the climate crisis worsens, Ontario needs to preserve its water supplies before the situation becomes more costly and dire. More delays will cost us with our wallets and with our health.
"Protecting the water and the Paris Galt Moraine is the fiscally and environmentally responsible thing to do.
The Ontario Greens' proposed legislation, the Paris Galt Moraine Conservation Act, would protect drinking water for hundreds of thousands of Ontarians in a region that is expected to add up to 1 million new residents by 2041. It is based on the Oak Ridges Moraine Conservation Act, passed in 2001 by the PC government of the time.
The Paris Galt Moraine Conservation Act passed second reading in 2019 at Queen's Park and was in committee before Doug Ford prorogued the legislature this past September.
"Ontario Greens don't back down from protecting people and nature," Schreiner said. "Even when Doug Ford wipes the order paper and gets rid of our important bills, we come back fighting."
The Ford government is threatening water across the province with reckless development projects. The construction of the Holland Marsh Highway severely threatens groundwater and the already at-risk Lake Simcoe, proposed plans to pave over the Carruthers Creek Headwaters would negatively impact the clean water supply in the Durham region, and Highway 413 would cut across 85 waterways.
"I will continue to lead the way on protecting water and nature at Queen's Park," Schreiner said. "I was the only MPP to vote against the Line 5 pipeline that puts the Great Lakes at severe risk. The Conservatives and NDP gave it the green light, while the Liberals didn't even bother to show up to vote."
Ontario Greens are committed to restoring and protecting nature and water. And as part of the Roadmap to Net-Zero climate plan, would protect 25% of Ontario by 2025 and 30% by 2030.
"We have a real plan for real action," Schreiner said. "And this bill is an example of the types of steps Ontario Greens are taking to build a greener and healthier Ontario."
Schreiner will table the Paris Galt Moraine Conservation Act this afternoon in the Queen's Park legislature.
-30-