For more information, please contact
Cecilia Stuart
About Mike
Mike Schreiner, Leader of the Green Party of Ontario and MPP for Guelph, is the first Green MPP elected to the Ontario Legislature in 2018.
Ontario Greens housing bills bring new solutions to the housing crisis, and protect the Greenbelt
November 22, 2022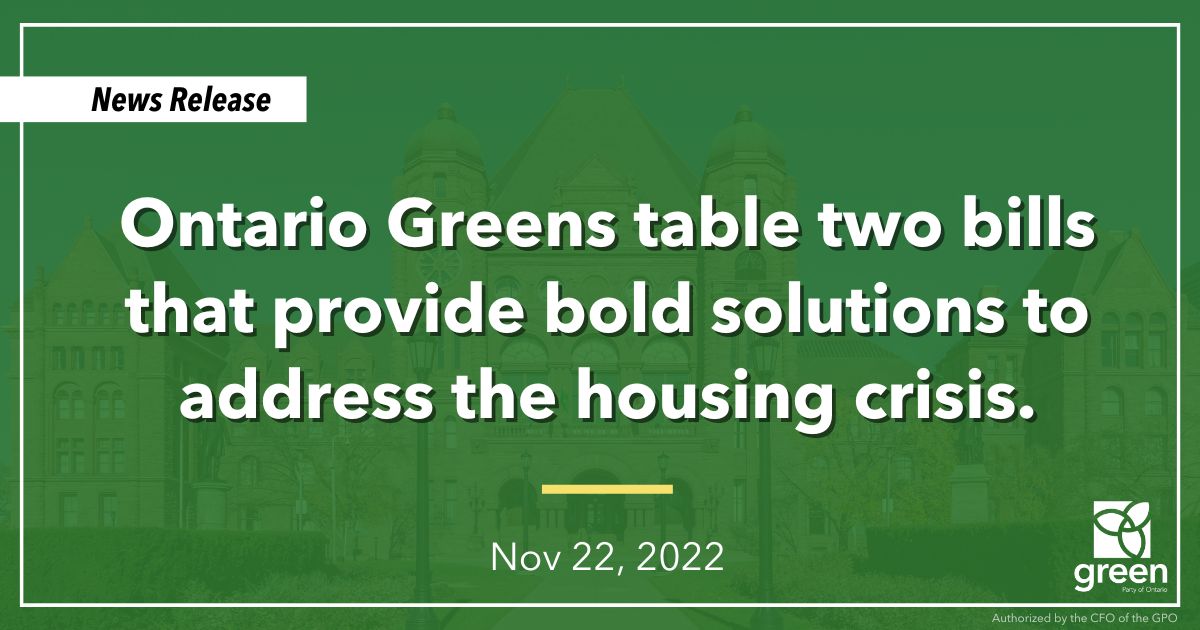 TORONTO — Ontario Greens leader and Guelph MPP, Mike Schreiner, will table two private member's bills for Planning Act amendments to allow fourplexes and walk-up apartments in residential neighbourhoods and mid-rise housing along transit corridors and main streets.
Today, the Ontario Greens will table two bills that provide bold solutions needed to address the complex and deepening housing crisis.
"We can't sprawl our way out of the housing crisis. And we can't afford to tinker around the edges. It's time for bold solutions and the Ontario Greens will continue to lead the other parties to take action on solving the housing crisis," said Schreiner.
Bills 23 and 39 make it clear that Ford is more focused on helping land speculators turn millions into billions than helping people find an affordable place to call home.
"The Premier's pro-sprawl, speculator-friendly bills sacrifice democracy, are underwhelming on supply and dangerous to our environment," said Schreiner. "A government that puts land speculators ahead of people is on the wrong track and Ford's pro-sprawl agenda will only worsen the climate and affordability crisis."
The government's latest housing legislation, and their revived plan to carve up the Greenbelt, will just mean more of the wrong houses getting built in the wrong places.
"Ford is gaslighting Ontarians into believing that he has no choice but to carve up the protected Greenbelt for housing," said Schreiner.
However, planning experts agree there is plenty of room to build the homes we need within existing urban boundaries. The government's own Housing Affordability Task Force confirmed that a shortage of land is not the cause of the housing crisis.
"We need to build where people, especially young people, want to live – in connected neighbourhoods close to jobs, family, shops and transit," said Schreiner. ""Ontario Greens have been the leading voice on ending exclusionary zoning – saying Yes-In-My-Backyard and no to sprawl."
With those priorities in mind, our bills propose amendments to the Planning Act to:
allow for fourplexes and four story walk-up apartments in neighbourhoods as of right and
allow for mid-rise developments ranging from six to 11 storeys on transit corridors and main streets.
-30-
Media contact:
Mehreen Shahid
Press Secretary
mehreenshahid@gpo.ca
437-929-1792
-30-