For more information, please contact
John Chenery
Ian Lipton nominated as Green Party Candidate
March 3, 2021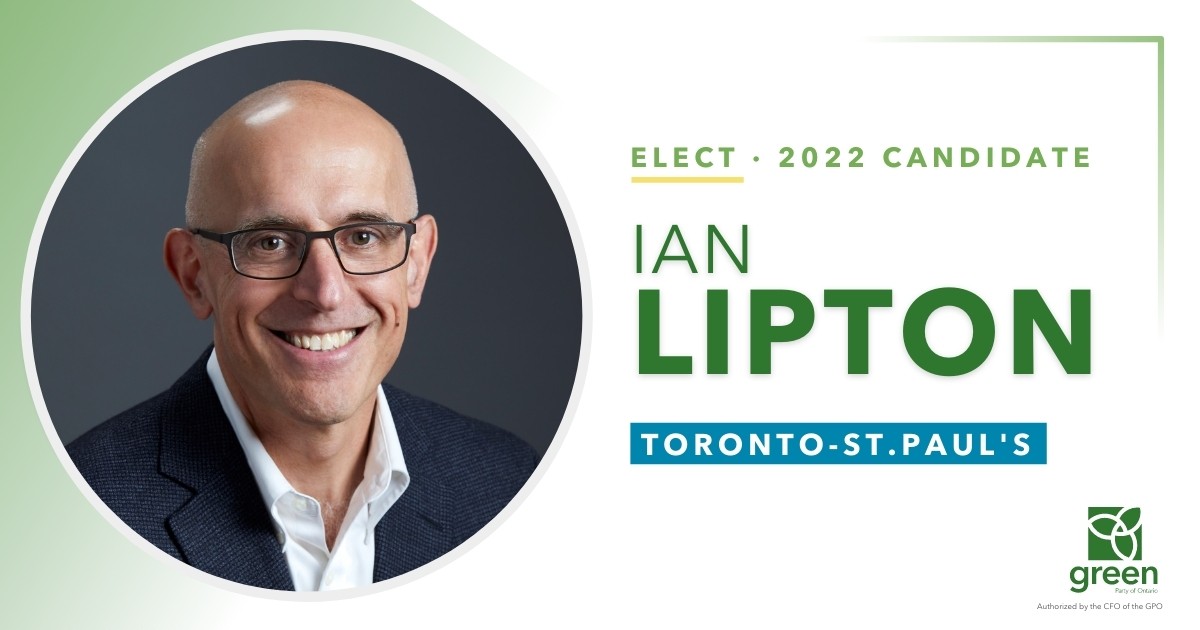 TORONTO — The Green Party of Ontario is proud to announce that Ian Lipton has been nominated as its candidate for the Toronto–St. Paul's riding ahead of the 2022 Provincial election.
Ian Lipton has over 25 years of experience creating jobs that make a positive difference. He is President of The Carbon Accounting Company, helping businesses and organizations quantify and reduce their carbon footprints.
"I believe we are living in a time that calls for new principles and priorities in politics," Ian said. "The path we were on was not sustainable or just. I'm running to make Ontario the green, healthy and equitable province we need it to be."
Ian lives in the Wychwood Heights neighbourhood and has been a resident of Toronto–St. Paul's for more than 12 years, where he previously ran for City Council in 2018. Ian is also involved in an initiative to help create a post-carbon, caring world and is a lecturer at the University of Toronto's Institute of Management & Innovation.
A graduate of the University of Waterloo, Ian holds a BA and MA in political science. He's a devoted dad to his 14-year-old daughter and a loving husband.
"Ian is extremely passionate about addressing the climate crisis with a just transition to a better economy and will be a welcome addition to our team," said Green Party of Ontario Leader Mike Schreiner. "I look forward to collaborating with him as we work to build back smarter with a green and caring recovery."
-30-