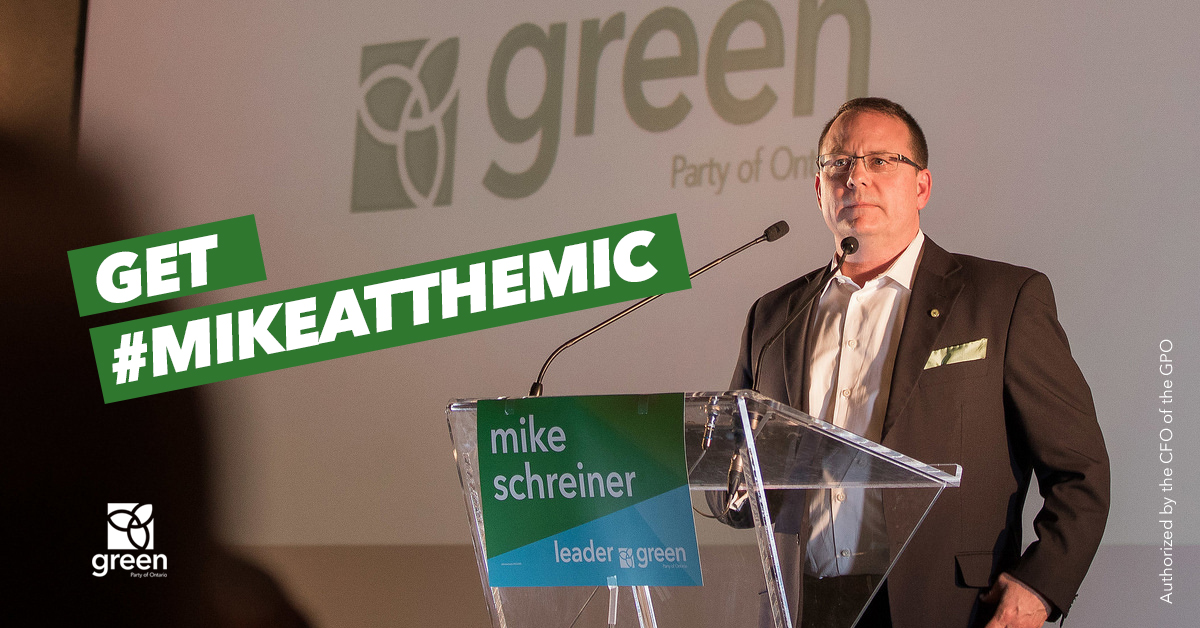 TORONTO, ON — A Twitterstorm erupted this afternoon, with the campaign to get Mike Schreiner a spot at the televised provincial leaders debate on Sunday one of the most tweeted topics of the day. The #MikeAtTheMic hashtag was trending at #1 in Toronto and was also a top trender across Canada.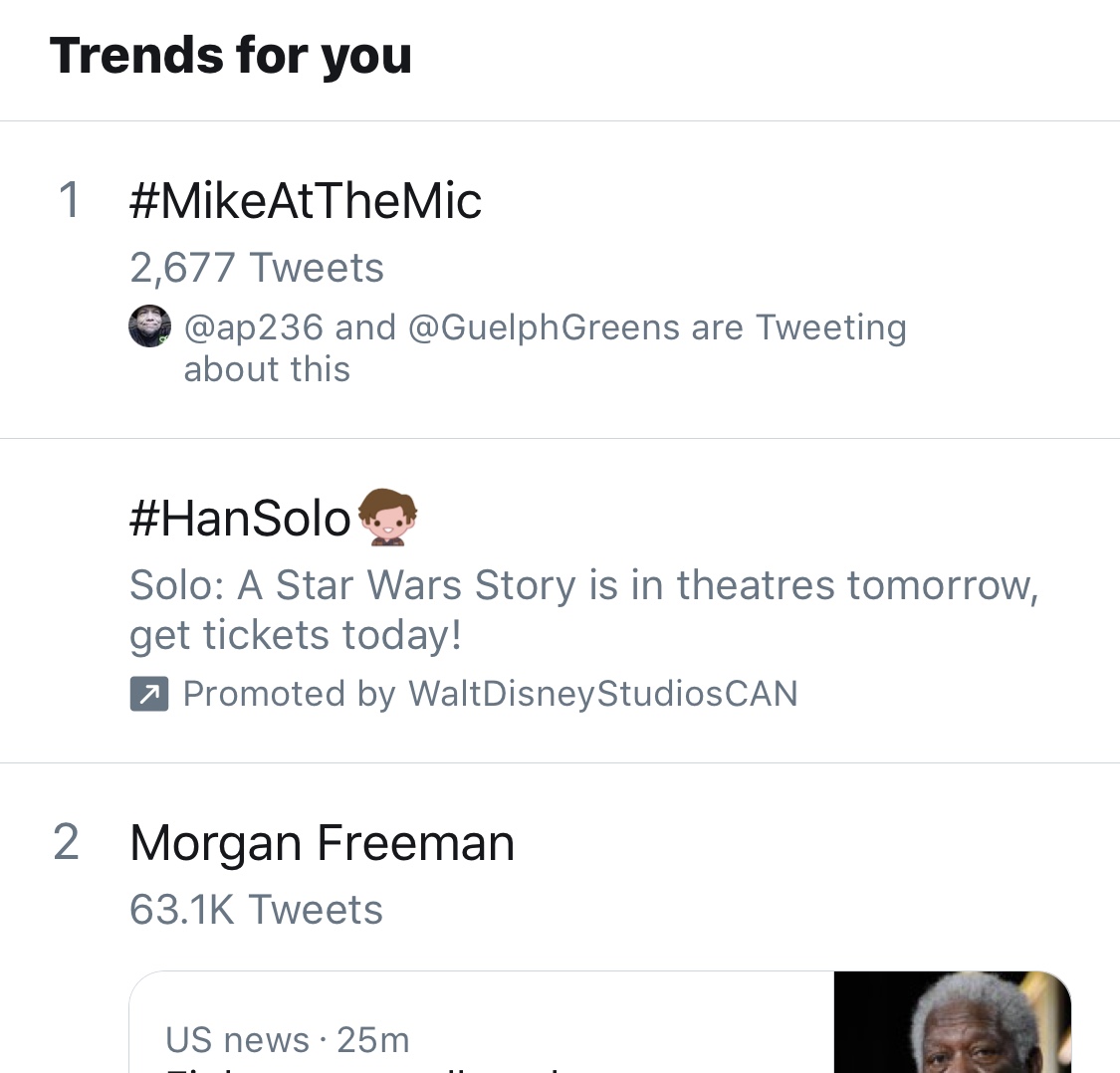 "It's overwhelming to see this much support for fair debates featuring all four publicly funded parties. The Ontario Broadcasters Group might try to silence us on Sunday, but thousands of Ontarians spoke out against their censorship today," said Schreiner.
By 3:15pm, there had been 3,747 tweets reaching close to 260,000 people and viewed over 872,000 times. The explosion of activity prompted a response from a representative of the media consortium, Mackay Taggart of Global, who tweeted:
I appreciate your position, though the Greens were not actively excluded from the debate. There was criteria set by the broadcast partnership to determine which leaders were invited to participate. Only three of the 28 registered parties in Ontario met the criteria.

— Mackay Taggart (@mackaytaggart) May 24, 2018
Mike Schreiner had this to say in reaction:
"Mr. Taggart's response illustrates exactly why unelected, unaccountable TV executives should not be determining something so fundamental to our democracy. The Ontario Broadcasters Group has still yet to explain why they decided to use different rules than those set by Elections Ontario for public funding of political parties. The net result is a censorship of the Greens and a failure to the people of Ontario."
A selection of the popular tweets can be read below.
Liberals and NDP have both agreed the @OntarioGreens deserve to be heard. As a supporter of voting reform, public engagement, transparency and inclusive democracy, I'm asking @GlobalTV @CBCNews @CHCHTV @CPAC_TV @TVO @CTVNews to put #MikeAtTheMic  #onpoli #ONelxn pic.twitter.com/j1iUlgsU10

— Sarah Climenhaga (@SarahforMayorTO) May 24, 2018
News organizations are supposed to be watchdogs for democracy. Shutting out Green leader @MikeSchreiner from Ontario's TV election debates is a shameful disservice to democracy @GlobalTV @CBCNews @CHCHTV @CPAC_TV @tvo @CTVNews. Be balanced and put #MikeAtTheMic #onpoli #ONelxn pic.twitter.com/4QZyUkF4r9

— Meanwhile in Canada (@MeanwhileinCana) May 24, 2018
I resent having the media decide who my voting choices are. That's not what democracy is about. https://t.co/vuhPNi57F7 @GlobalTV @CBCNews @CHCHTV @CPAC_TV @TVO @CTVNews #MikeAtTheMic #ONElxn #onpoli

— DrKarenS (@DrKarenS) May 24, 2018
A party that has run a full slate of candidates for four elections, received 3/4 million votes and is funded in part by the provincial government should NOT be shut out of the debates. It's actually ridiculous! #MikeAtTheMic @GlobalTV @CBCNews @CHCHTV @CPAC_TV @TVO @CTVNews #ygk pic.twitter.com/xGzrd9vit3

— Robert Kiley (@robert_kiley) May 24, 2018
#MikeAtTheMic Join the effort to get the Ontario Broadcasters Group to let the Green Party Leader Mike Schreiner participate in provincial debates – retweet this!

— Gord Miller (@Ecogai) May 24, 2018
In Ontario, 4 parties are publicly funded but @GlobalTV @CBCNews @CHCHTV @CPAC_TV @TVO and @CTVNews have decided you only should hear about 3. Don't condone them being on the wrong side of history. #RETWEET and send them a message #MikeAtTheMic #onpoli #ONelxn #MikeAtTheMic

— Andrew West (@greenandrewwest) May 24, 2018
As a democracy, @MikeSchreiner should absolutely be in the leader's debate.
1. He's a party leader
2. @Ontariogreen have candidates in all ridings
3. 233K votes in 2014
#MikeAtTheMic @GlobalTV @CBCNews @CHCHTV @CPAC_TV @TVO @samara @ElectionsON #ONPoli

— Dominique O'Rourke (@DTORourke) May 24, 2018
4 political parties in Ontario receive huge sums of taxpayer money but we only get to hear from 3?

@GlobalTV @CBCNews @CHCHTV @CPAC_TV @TVO @CTVNews this doesn't make sense and you can fix it.

Let's get #MikeAtTheMic on May 27th. #onpoli #ONelxnhttps://t.co/sCJWJRtkQb

— A Strong Canada (@A_Strong_Canada) May 24, 2018
As a Green Party candidate in St. Catharines, I'm happy to have been invited to all local debates. If I'm invited locally, then why shouldn't GPO leader @MikeSchreiner be invited to leaders' debates. #MikeAtTheMic #onpoli #ONelxn https://t.co/bjD85HeYmC

— Colin Ryrie (@ColinRyrie) May 24, 2018
That feeling when one of the Ontario Broadcasters Group network's regions likes a tweet that argues @MikeSchreiner should be invited to participate in the televised leaders' debate this Sunday. 🤔 #onpoli #MikeAtTheMic pic.twitter.com/pXUd6FHS9Q

— Devon Rowcliffe (@DevonRowcliffe) May 24, 2018