For more information, please contact
Cecilia Stuart
Schreiner and Campbell tour Dufferin-Caledon in support of climate-smart farming and green jobs
February 2, 2022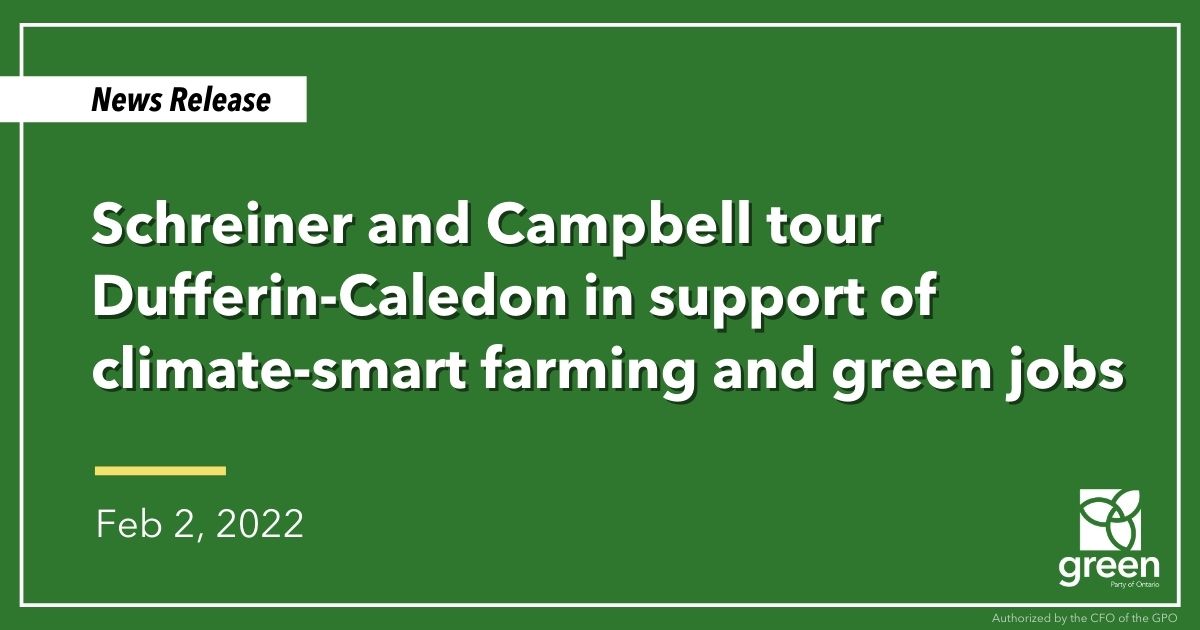 DUFFERIN-CALEDON — This morning, Ontario Greens leader Mike Schreiner joined Ontario Greens candidate for Dufferin-Caledon Laura Campbell for a tour of Dufferin-Caledon.
Scheriner and Campbell visited GoodLot Farmstead Brewing Co., an organic hop farm that operates using climate smart, regenerative farming — meaning they sequester more carbon than they emit.
"We can create good, clean jobs that are good for the local economy and can help tackle the climate crisis," Mike Schreiner said. "Climate action is job action. It's as simple as that."
As part of the Roadmap to Net-Zero climate plan, Ontario Greens will invest $1 billion into climate-smart and regenerative agriculture to support farms like GoodLot, as well as establish a $4 billion Climate Bank to help green businesses commercialize and scale climate solutions."
"GoodLot is a great example of the many local farms and green businesses here in the Dufferin-Caledon community," Laura Campbell said. "Supporting farms like GoodLot means supporting people and planet."
"But instead of supporting farmers and investing in climate action, Doug Ford wants to pave over farmland with his pro-sprawl agenda," Schreiner said.
Ontario is losing 175 acres of farmland everyday, which is the equivalent of five family farms per week.
"Protecting farmland means protecting the 873,000 jobs in the food and farmer sector and the sector's $50 billion contribution to our economy."
-30-