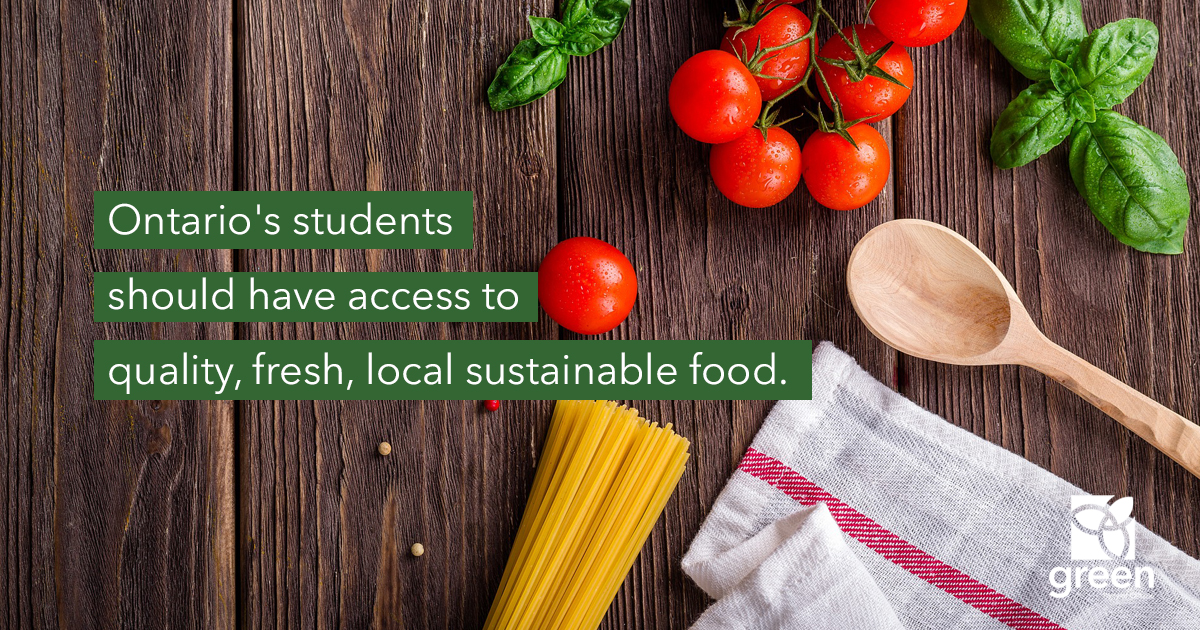 TORONTO – Green Party of Ontario Leader Mike Schreiner is calling for real action to make sure students at the province's university and college campuses have access to quality, fresh, local sustainable food.
A report card from the student advocacy group Meal Exchange found fewer than one in 10 students would recommend food on their campus to a friend, and just one-quarter of students felt food on campus helped them maintain a healthy diet. Only 44 per cent said they had fresh food options.
"Instead of having our publicly funded Universities and Colleges selling their food service rights to corporate food chains, we could be supporting local growers and distributors. It only makes common sense that Ontario students should have access to fresh food products from local farms who create local jobs," said GPO Leader Mike Schreiner. "The report shows students clearly want high-quality, fresh food, and the government that funds those schools should do all it can to make sure they get it."
Over three-quarters of students responding to the Meal Exchange survey said it was important to them that their school source and serve locally grown food, while 82 per cent said they wanted an increase the availability of healthy food options.
"There are several universities doing a very good job of providing fresh, local food options for students, including the University of Guelph, which came out on top of the survey," said Schreiner. "Trent University in Peterborough and the University of Waterloo also have local food programs that could be duplicated on campuses across Ontario, helping both students and farmers."
Schreiner said another example of a good program that could be expanded to other post-secondary institutions is at the University of Toronto's St. George campus, which takes part in the Greenbelt Fund's Local Food Challenge to raise student awareness about locally-grown food options. It also runs Veggie Mondays, offering a discount on vegetarian meals.
In addition to being the GPO's candidate in Guelph for the June election, and Green Party Leader, Schreiner is also a co-founder of the award-winning Local Food Plus organization and creator of WOW Foods and Earthdance Organics.