For more information, please contact
Cecilia Stuart
Ontario Greens will offer grants for low and middle-income post-secondary students & immediately eliminate interest on student debt
May 20, 2022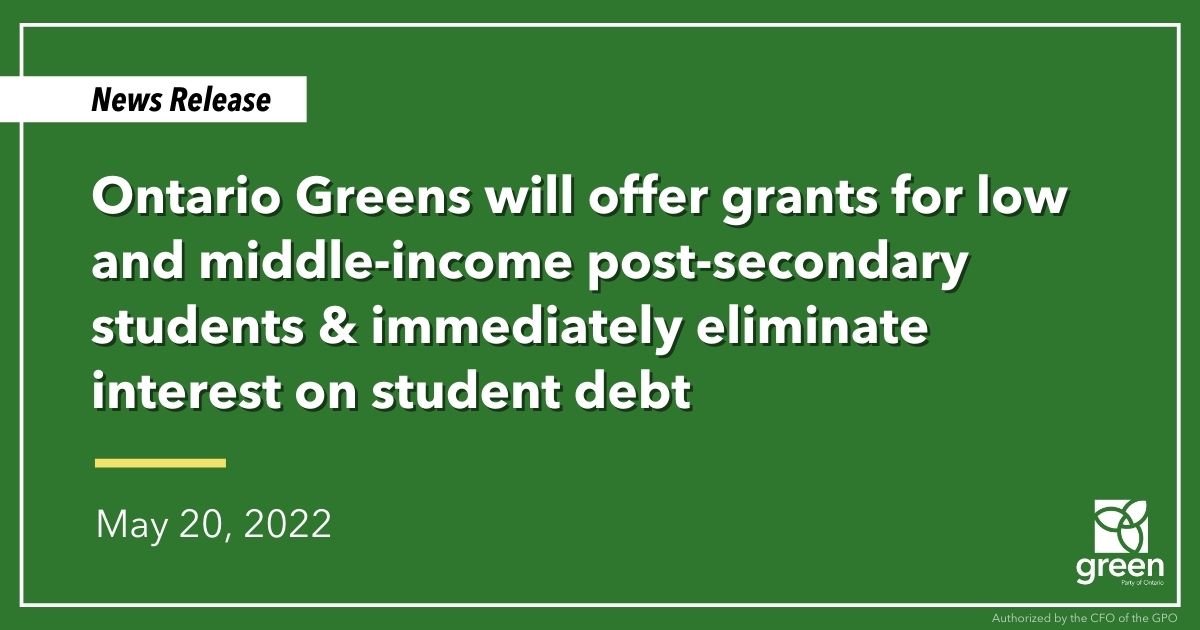 TORONTO — Today, Leader Mike Schreiner announced that Ontario Greens will immediately reverse the Ford government's cuts to the Ontario Student Assistance Program (OSAP) and convert loans to grants for low- and middle-income post-secondary students. Greens will also immediately eliminate interest charges on student debt for everyone going forward.
Schreiner was joined virtually by Ontario Greens candidates Shelby Bertrand (Ottawa Centre), who is a current post-secondary student, and Elyse Robinson (Barrie–Springwater–Oro-Medonte), who is a recent grad.
"Ontario Greens are committed to making life more affordable for post-secondary students," Schreiner said. "The affordability crunch is hitting young people disproportionately hard. Many students and recent grads are struggling to pay the bills as the cost of living skyrockets. Helping support students' tuition with grants and eliminating interest on student debt is an important step to relieve financial pressure and stress.
Doug Ford made drastic cuts to OSAP in 2019, which left many students and recent grads in extremely difficult financial situations. Many students were at threat of having to drop out because of financial concerns, and it increased the anxiety and stress that many students already face. Ontario notably has the highest per-capita post-secondary tuition rates, and the lowest per-capita student assistance rates, of any province in the country.
"Making life more affordable for students and recent grads is about improving mental health, boosting the economy, and protecting people's wallets. It's about building a healthier, more caring and more prosperous Ontario for young people," Schreiner said.
Ontario Greens are the only party committed to addressing the real challenges and concerns that young people are facing. Whether it's dread about the climate crisis, the inability to find an affordable place to call home, or the financial burden of tuition and student debt.
"We have new solutions to the old problems that are impacting young people in Ontario," Schreiner said.
-30-