For more information, please contact
John Chenery
About Mike
Mike Schreiner, Leader of the Green Party of Ontario and MPP for Guelph, is the first Green MPP elected to the Ontario Legislature in 2018.
Schreiner highlights Ontario Greens' vision for a more affordable, caring and climate-ready future for youth alongside young Green candidates
May 29, 2022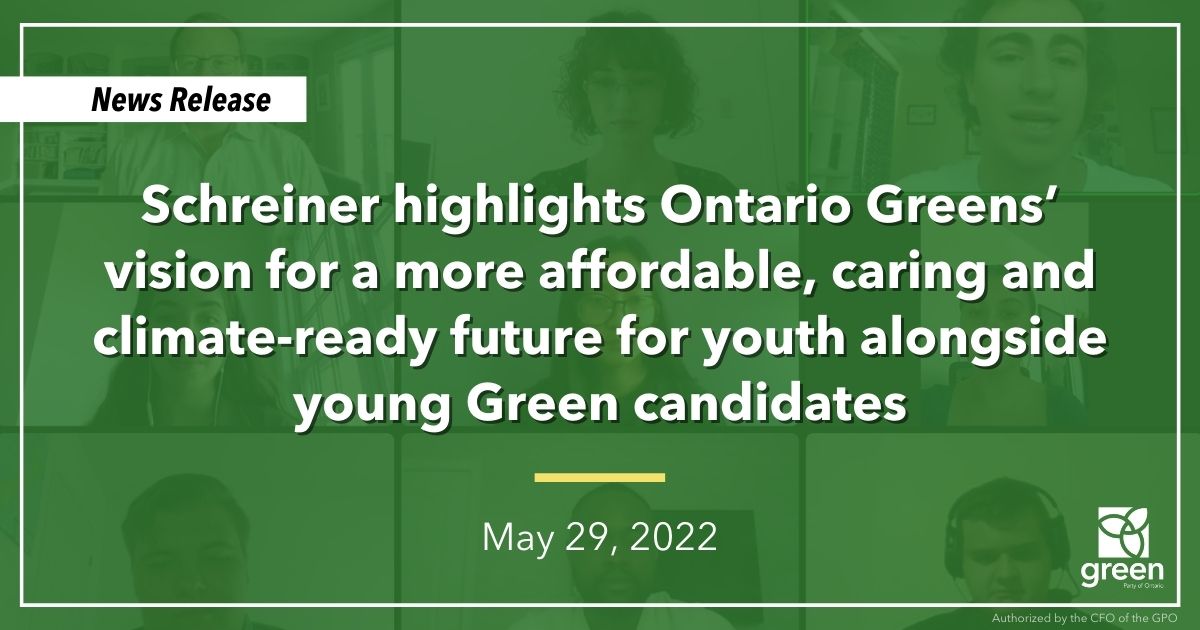 TORONTO — Leader Mike Schreiner hosted a virtual panel discussion this morning with young Green candidates from across the province to discuss the party's solutions to key youth issues, including the climate emergency, housing affordability, transit, post-secondary education and mental health.
"If we want to build a livable future for young Ontarians, they need to have a seat at the table," Schreiner said.
The panel included 8 of the Ontario Greens' many stellar young candidates: Shelby Bertrand (Ottawa Centre), Gabriel Blanc (Etobicoke North), Carolina Rodriguez (Newmarket—Aurora), Michelle Angkasa (Mississauga—Erin Mills), Elyse Robinson (Barrie—Springwater—Oro-Medonte), Steven Warren (Ottawa West—Nepean), Jamaal Blackwood (Brampton East), and Zachary Typhair (Kingston and the Islands).
"Doug Ford wants to pave over young people's future," Schreiner stated. "So many youth are losing hope that governments will solve the big challenges of our time. Many are experiencing climate anxiety, are worried that they'll never be able to find an affordable place to call home, or have clean air to breathe."
Greens are working hard to put forward new solutions to old problems so young Ontarians can have a cleaner, more affordable, caring and climate-ready future:
Addressing the climate emergency head on by crushing climate pollution, protecting nature and also addressing the very real issue of climate anxiety
Covering mental health care under OHIP, reducing youth mental health wait times to 30 days or less, and expanding on-campus mental health services
Cutting transit fares in half and making it free for highschool students
Aggressively investing in housing affordability, including a YIMBY housing strategy, to ensure all young people can find an affordable place to call home
Offering grants instead of loans for low and middle-income post-secondary students & immediately eliminating interest on student debt
Lowering the voting age to 16 so youth can have a say in their future
Helping prepare young people for the the green jobs of the future by offering free tuition and apprenticeships
"Ontario Greens have a vision and the leadership to build a more caring, healthy and climate-ready Ontario for young people,' Schreiner said. "Where nature and water is protected and youth are given a voice and a say in the future they want."
-30-