For more information, please contact
John Chenery
About Mike
Mike Schreiner, Leader of the Green Party of Ontario and MPP for Guelph, is the first Green MPP elected to the Ontario Legislature in 2018.
Schreiner & Richter announce Green Plan for Parry Sound–Muskoka
May 25, 2022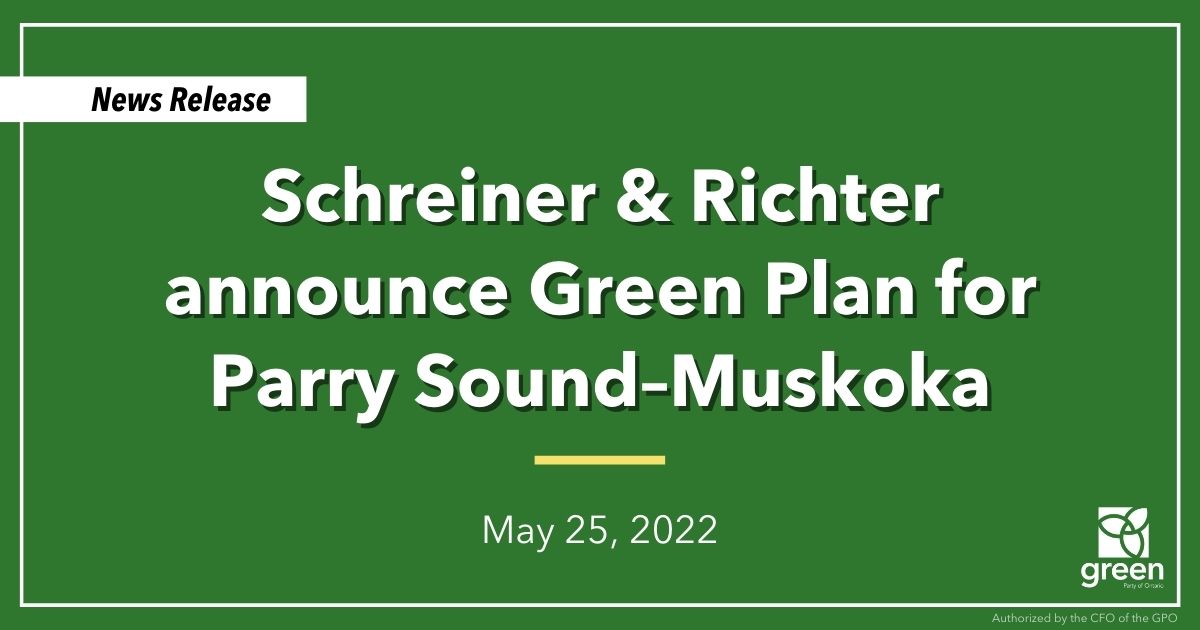 TORONTO — This morning, Leader Mike Schreiner and candidate for Parry Sound-Muskoka Matt Richter announced the Green Plan for Parry Sound-Muskoka to make life more caring, affordable and connected for residents in the riding.
"Ontario Greens have new solutions to the old problems facing the people of Parry Sound–Muskoka," Schreiner said at the announcement in Huntsville.
"We have the leadership to build the Parry Sound–Muskoka you want," Richter said. "We hear your concerns and we have a real plan to tackle them head-on."
The Green Plan for Parry Sound–Muskoka includes seven key priorities:
1. Expand healthcare options
Create three new nurse practitioner-led clinics in Parry Sound–Muskoka
Rebalance the healthcare funding formula to ensure better access in rural areas
Recruit 230 doctors to northern communities including in Parry Sound–Muskoka
Immediately repeal Bill 124 and hire more nurses and PSWs in the region
2. Tackle the housing affordability crisis
Build 1,000 affordable rental homes in Parry Sound–Muskoka
Increase housing supply by offering zero-interest loans of $25K for homeowners to add affordable rental units, such as secondary suites, onto their primary residence
3. Help local small businesses thrive with a Main Street Strategy
Create and enforce rent control guidelines for year-over-year increases that apply to all commercial tenants, including new tenants
Expand the Digital Main Street program to provide fulfilment platforms that better enable small, local businesses to compete with large online companies
Change the regulations to allow boutique wine, craft beer and artisan spirit retail outlets to open legally, including independent, off-site stores opened by craft producers
Expand programs to help Black, Indigenous and other racialized entrepreneurs start or grow their business
4. Make transit more affordable, convenient & reliable to connect Parry Sound–Muskoka
Immediately restore and improve the Northlander passenger rail service
Expand and improve inter-community Northland bus service
Immediately cut all Northland transit fares in half for at least 3 months to address the soaring cost of transportation
5. Bring down the cost of utility bills
Focus hydro bill relief programs for people in rural or remote areas, and those with low-incomes
Help homeowners save money by saving energy with grants of up to $15,000 to $20,000 to cover retrofits to improve energy efficiency
6. Protect Parry Sound–Muskoka communities from expensive flooding
End clearcutting of forests for development projects
Work with Indigenous communities to conserve and protect at least 25% of Ontario by 2025, and 30% by 2030
Restore and expand wetlands and green infrastructure to clean stormwater and reduce flooding
7. Improve rural education & address student mental health
Rebalance the education funding formula to take into account the unique needs of rural schools
Increase funding for children's mental health to reduce wait times to less than 30 days and ensure students can easily connect to community mental health professionals at or near primary and secondary schools
Create a Youth Wellness Hub in each major Parry Sound–Muskoka community
Eliminate EQAO standardised testing to save money and reduce unnecessary stress on students
-30-