For more information, please contact
Cecilia Stuart
Schreiner announces Ontario Greens' Main Street Strategy
May 18, 2022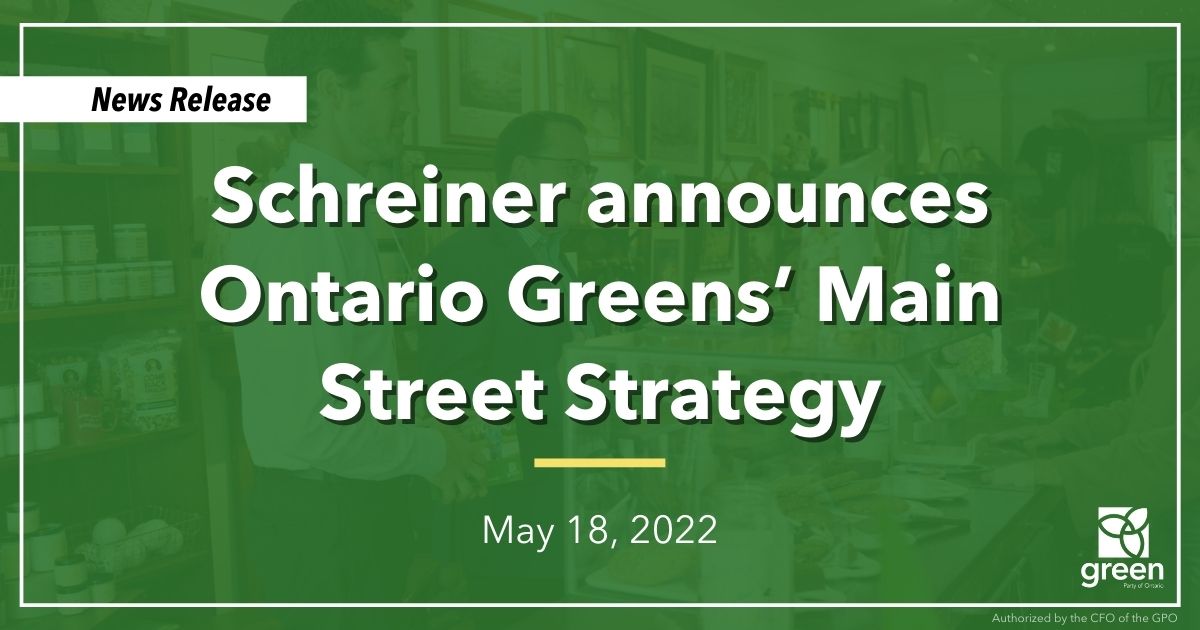 GRAVENHURST — Ontario Greens Leader Mike Schreiner was in Gravenhurst today to meet with local small businesses on Brock Street and announce his party's Main Street Strategy to support small businesses. He was joined by candidate for Parry Sound-Muskoka and small business owner Matt Richter.
Ontario Greens' Main Street Strategy will:
Expand the Digital Main Street program to include nonprofit organisations and provide fulfilment platforms that better enable small, local businesses to compete with large online companies.
Support additional funding and expansion of the staycation tax credit and ensure it includes dining at restaurants.
Undertake a review of regulations in order to weed out red tape and costs that disproportionately affect small businesses.
Create and enforce rent control guidelines for year-over-year increases that apply to all commercial tenants, including new tenants
Change the regulations to allow boutique wine, craft beer and artisan spirit retail outlets to open legally, including independent, off-site stores opened by craft producers.
Expand programs to help Black, Indigenous and other racialized entrepreneurs start or grow their business.
"Throughout the pandemic Doug Ford rolled out the red carpet for big box stores while letting hard-hit small businesses suffer," Schreiner said.
"Ontario Greens are committed to creating vibrant neighbourhoods, strong local economies and helping diverse, local businesses recover and thrive."
"There are so many amazing small businesses in Gravenhurst and across this riding that need our support," candidate for Parry Sound–Muskoka and small business owner Matt Richter said. "We have new solutions to help our mainstreets get back to life so we can build the kinds of communities you want."
-30-