For more information, please contact
Cecilia Stuart
Schreiner announces transformative Green Retrofit Program to save people money & create 52K green jobs per year
May 11, 2022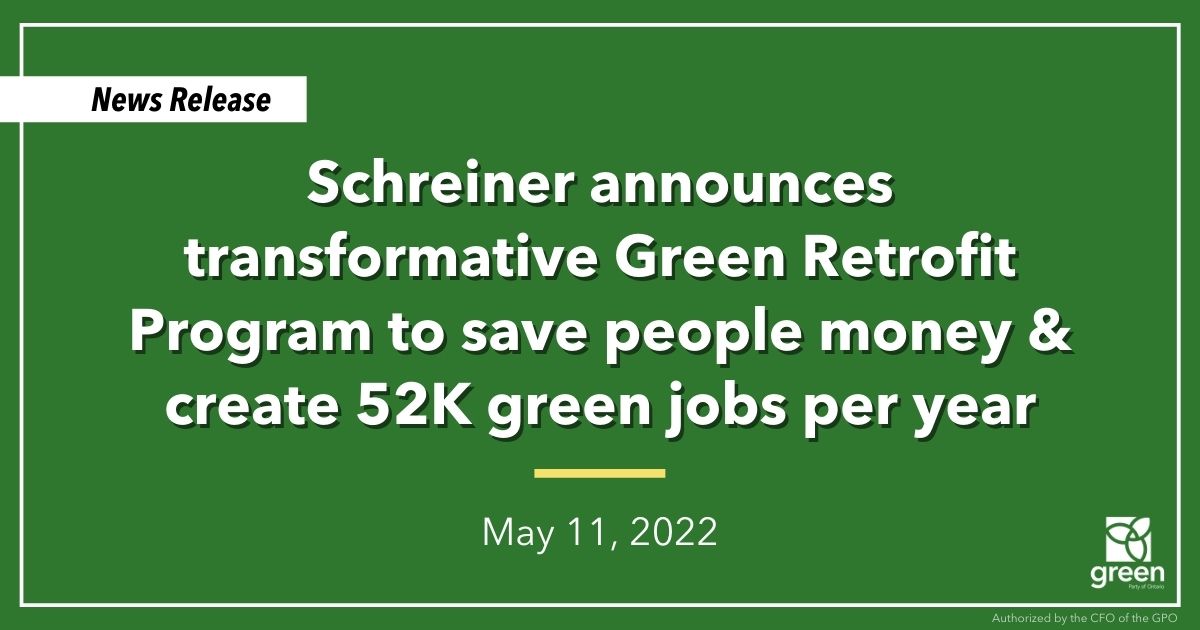 SUDBURY — Ontario Greens Leader Mike Schreiner announced his party's Green Retrofit Program today, which will help people save big on their utility bills, create good green jobs, and crush climate pollution. He was joined for the announcement in Sudbury by local candidate David Robinson (Sudbury).
"We have real solutions to make life more affordable and crush climate pollution at the same time," Schreiner said. Schreiner was notably the only leader to talk about climate solutions at yesterday's FONOM Northern Ontario leaders debate.
Under the Greens' plan, homeowners can receive a grant of up to $15,000 – $20,000 to cover green retrofits like heat pumps and improved insulation. For households with incomes under $100,000, the grant increases to $20,000. The plan also includes more than $2 billion to retrofit non-profit and co-op housing.
"The green transition has to be accessible and affordable for everyone," Schreiner said. "And that means targeted efforts to support low and middle income households."
The retrofit program will also create 52,000 jobs per year.
"Greens will make Ontario a giant of the new climate economy," Schreiner said. "With good, green jobs for people all across the province, especially in the North."
Ontario Greens have allocated $16 billion for the Green Retrofit Program as part of its election platform. Schreiner will announce his party's fully-costed platform tomorrow morning in Toronto.
-30-