For more information, please contact
Cecilia Stuart
Mike Schreiner announces Ontario Greens' Plan for the North
May 10, 2022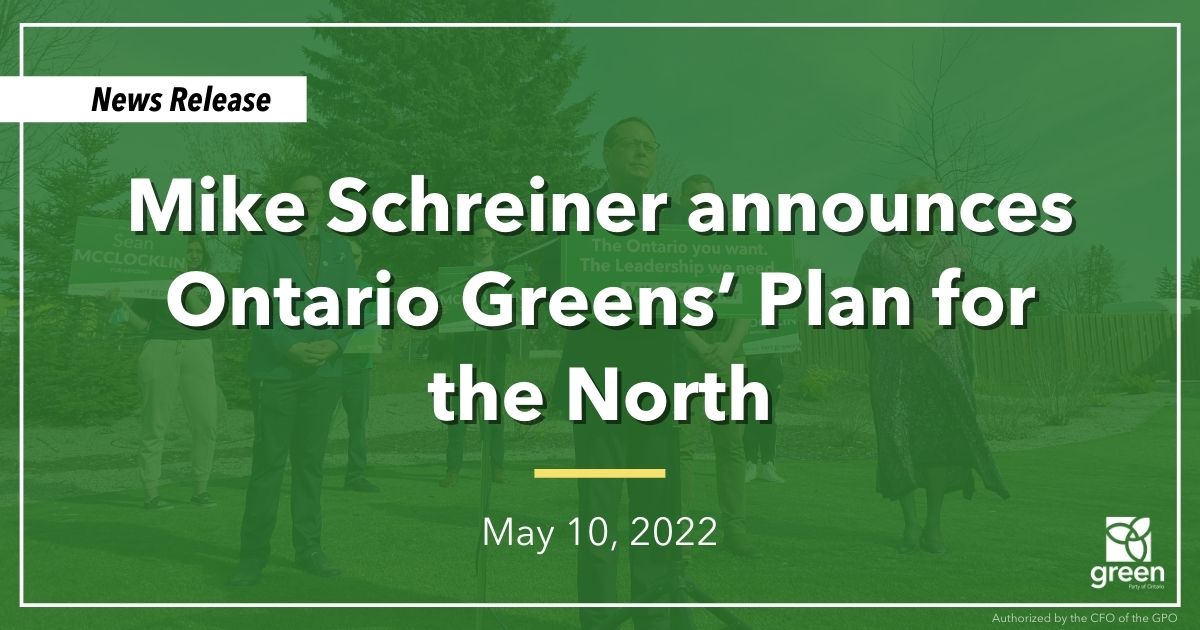 TORONTO — Leader Mike Schreiner announced the Ontario Greens' Plan for the North in North Bay this morning alongside local candidates Sean McClocklin (Nipissing) and Kris Rivard (Timiskaming-Cochrane).
"Ontario Greens recognize the unique needs of the North," Schreiner said when introducing the Northern platform. "And as a party we commit to a vision that recognizes these unique needs, rebalances government funding, and builds a true partnership with First Nations and Métis communities in the North."
The 7 key priorities of the platform are listed below (including select highlight policies):
1) Create good green jobs in the North
Increase sustainable, circular and Indigenous-led access to critical minerals and metals while fully adhering to principles of UNDRIP
Maximize job and economic benefits for Northern communities by removing barriers to mass timber building
2) Expand access to quality healthcare in Northern communities
Make dedicated investments in Nurse Practitioner-led clinics in the North where improved access to primary care is critical
3) Invest in a mental health and addictions strategy
Build at least 4,000 supportive homes and 6,000 affordable community rental homes for Northern communities
Implement the Ontario Greens' Addiction Strategy to address the drug poisoning crisis that has disproportionately affected Northern communities
4) Improve funding for education and French language access
Support the University of Sudbury in transforming into a university by and for Francophones
5) Protect Ontario's natural heritage
Provide $1B in funding to First Nations communities to support Indigenous-protected and conserved areas and Indigenous-led climate solutions
6) Partner with Indigenous communities
Invest in the creation of 14,000 Indigenous-led affordable homes in Northern Ontario communities
7) Improve connections to the North
Immediately restore and improve the Northlander passenger rail service between Toronto and Cochrane with funding for upfront capital costs of $220 million as well as annual operating subsidies of $12 million
Please find the Ontario Greens' full Platform for the North here: gpo.ca/plan-north
Schreiner will be participating in the FONOM Northern Ontario Leaders Debate at 1pm today.
-30-