For more information, please contact
John Chenery
Ontario Greens announce addictions and drug poisoning crisis strategy
March 17, 2022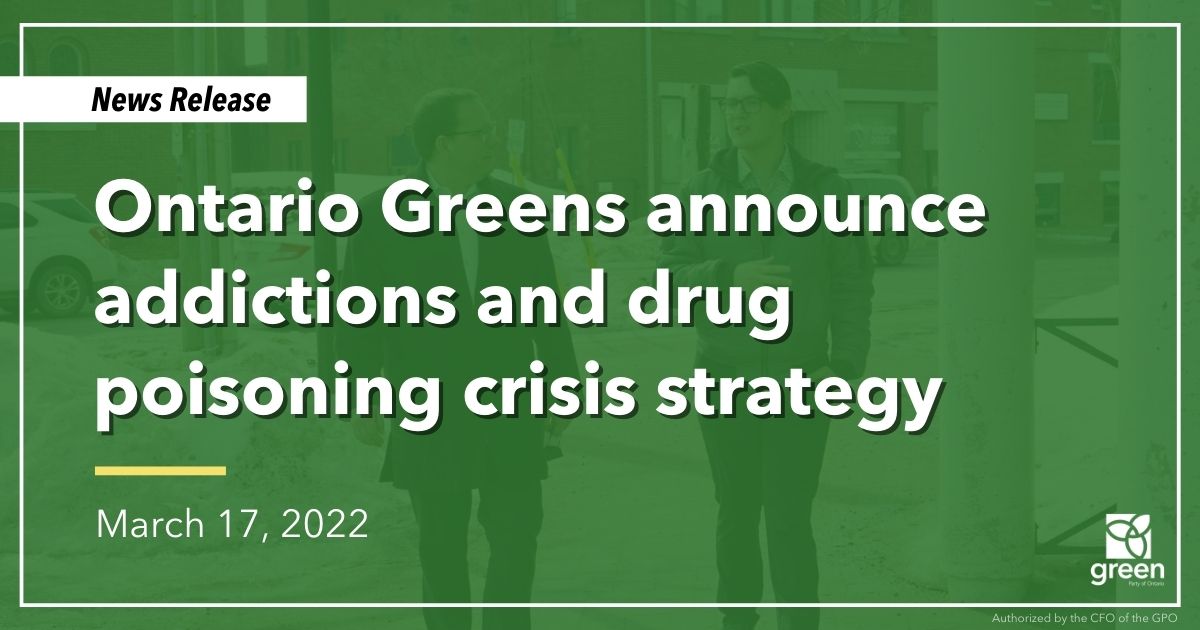 TORONTO — Ontario Greens Leader Mike Schreiner unveiled his party's addictions and drug poisoning strategy in North Bay this morning.
"The drug poisoning crisis in Ontario is real and it is raging," Schreiner said at a news conference in North Bay. "It's a public health emergency. And tragically, it's hitting the North the hardest."
According to the Ontario Drug Policy Research Network, fatal opioid drug poisonings rose by a staggering 79 per cent among Ontarians aged 25-44 since the onset of the pandemic — with rates in northern Ontario almost three times higher than southern regions of the province.
"We need to start treating substance use as a health issue and not a criminal issue," Schreiner said. "People suffering from addictions challenges should be provided access to care, not locked up and ostracized. Let's end the stigma."
The Ontario Greens' addictions and drug poisoning prevention strategy will:
Decriminalize drug use and shift funding from the justice system to health care
Establish a 3 digit, 24/7 province-wide mental health crisis response line, and create mental health-focused crisis response teams to respond to drug poisonings
Increase the number of provincially-funded treatment beds
Increase the number of consumption and treatment sites and expand the availability of harm reduction programs, including safe supply
Take a Housing First approach and build 60,000 permanent supportive housing spaces
Schreiner was joined by Sean McClocklin, Certified Addictions Counsellor and Ontario Greens candidate for Nipissing, and Kris Rivard, candidate for Timiskaming-Cochrane.
"I see the impact of the addictions and drug poisoning crisis on my community first-hand," McClocklin said. "We need to build a more caring and equitable Ontario where everyone has access to the care they need and a safe place to call home. And Ontario Greens have a serious plan to address this tragic and worsening situation."
Schreiner will put the Ontario Greens' plan into action next week when he tables a legislative motion at Queen's Park calling for a province-wide strategy to address the addictions and drug poisoning crisis.
For more information on the Ontario Greens' Building a more caring Ontario mental health plan: gpo.ca/mentalhealth
-30-