For more information, please contact
Cecilia Stuart
Schreiner highlights plan for the new climate economy during Ontario Chamber of Commerce address
April 30, 2022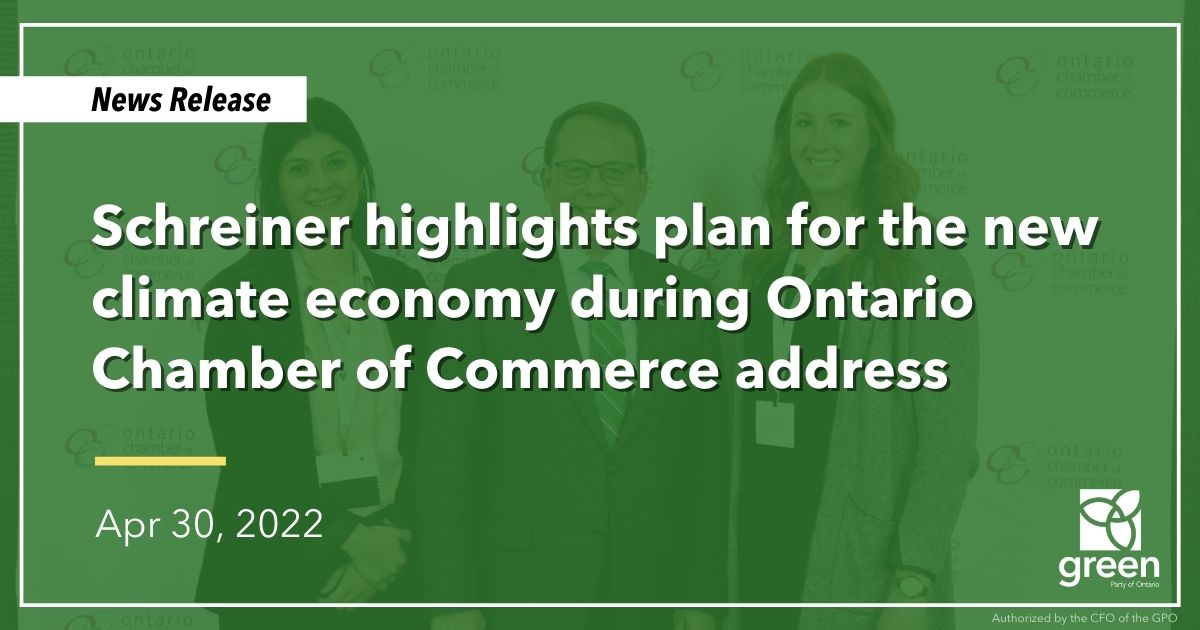 BRAMPTON — Ontario Greens Leader Mike Schreiner highlighted his party's plan to make Ontario a global leader in the new climate economy during his address to the Ontario Chamber of Commerce (OCC) this morning.
"The climate crisis is here," Schreiner said. "And the Ontario Greens have an honest plan to bring predictability to your business' futures in the face of that reality so you can invest in being leaders and job creators in the new climate economy."
"Instead of pretending that climate change will go away, Greens want Ontario to lead the world and get to the front of the line in the global green marketplace."
The OCC has been leading the business sector in the conversation about climate change. We need to move business to where the puck is going and take advantage of this huge opportunity.
Ontario Greens will turn Ontario into a giant of the new global climate economy and support small businesses and entrepreneurs as we embrace the green transition:
Launch a transformative green retrofit program and create thousands of jobs
Create a sustainable, made-in-Ontario mining-to-manufacturing EV strategy
Support Ontario entrepreneurs to build world-leading clean businesses in energy storage, electric transportation, smart transit and low-carbon biomaterials
Train a new green workforce, especially those in the trades, needed for us to succeed
"We have to act now," Schreiner concluded. "We can't afford to wait."
"The half measures and no measures of the old line parties just won't cut it.
We need new solutions to old problems."
-30-