For more information, please contact
John Chenery
Ontario Greens will improve air quality and health by stopping the sprawl
April 22, 2022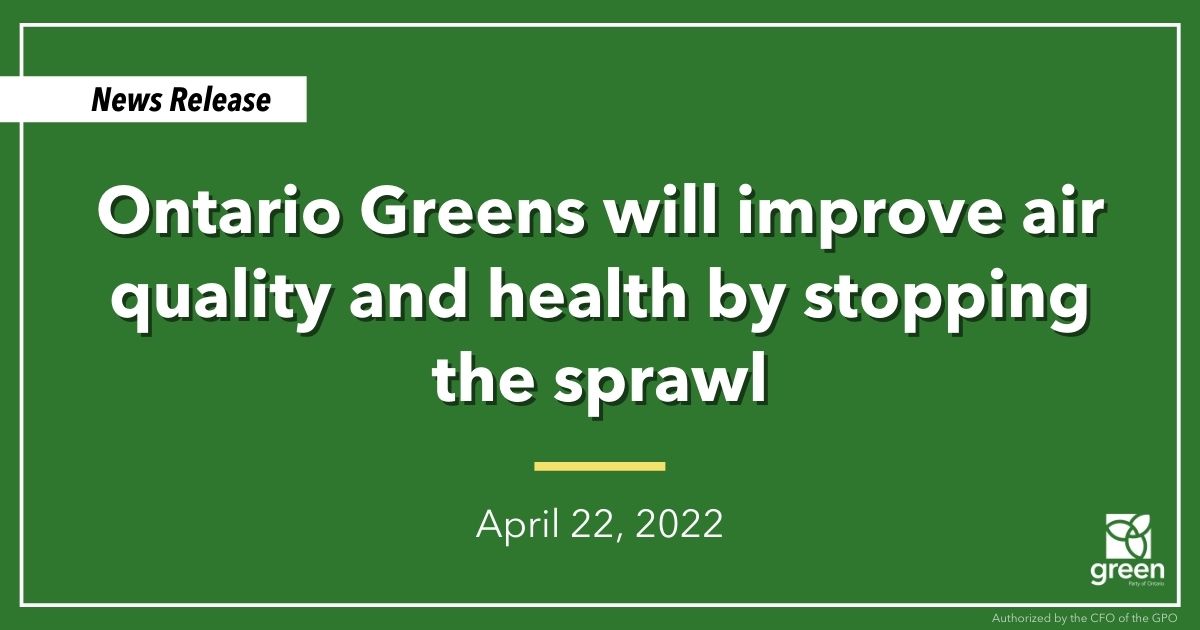 TORONTO — Ontario Greens will build livable and affordable communities instead of Doug Ford's urban sprawl that harms our health. A new report from the Canadian Association of Physicians for the Environment (CAPE) makes unequivocally clear the health risks associated with transportation-related air pollution.
"Doug Ford's expensive sprawl will pollute the air and make our health worse." Ontario Greens Leader Mike Schreiner said. "It has to stop."
The Ford government is ramming through two air-polluting highways with his pro-sprawl agenda. Highway 413 and the Holland Marsh Highway will increase toxic emissions by over 430,000 tonnes per year. Highway 413 alone is estimated to lead to $1.4 billion dollars in cumulative damages from air pollution by 2050.
CAPE's study shows that air pollution from highways increases rates of asthma among both children and adults, as well as respiratory diseases like bronchitis. The report highlights the need to build healthy, walkable and bikeable communities with access to green space, rather than urban sprawl that forces people to rely on long, expensive commutes.
"The solution is clear," Schreiner said. "Ontario Greens will stop the sprawl and build healthier, walkable, more affordable and livable communities where we have clean air to breathe."
To see the Ontario Greens' full housing strategy: gpo.ca/housing
-30-