For more information, please contact
John Chenery
Schreiner highlights Ontario Greens' real plan for a more caring and green Ontario at Equal Pay Day Leaders Debate
April 13, 2022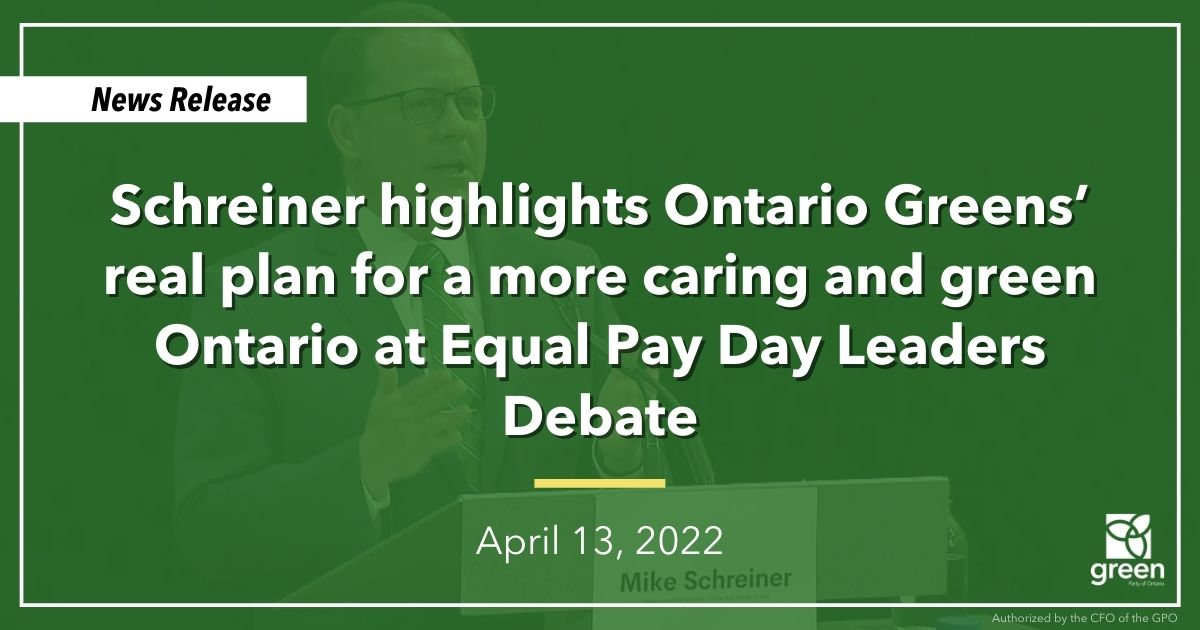 TORONTO — Yesterday evening, Leader Mike Schreiner highlighted the Ontario Greens' real plan for a more equitable, caring and green Ontario at the Equal Pay Day Leaders Debate.
The debate, organized by the Equal Pay Coalition showcased Schreiner's and Ontario Greens' leadership on a number of key women's issues including closing the wage gap, protecting water and climate justice, building more caring communities, and child care.
"Let's be clear: the clean water crisis in First Nations communities is environmental racism," Schreiner said in response to a question about addressing the clean water crisis in First Nations communities and ensuring Indigenous women's voices are heard on the issue.
Liberal Leader Steven Del Duca notably discussed clean water, despite his party failing to vote against the Line 5 pipeline (along with the NDP) that severely threatens the Great Lakes, which provides drinking water for 35 million people.
Schreiner also highlighted his party's leadership on covering mental health care under OHIP and a minimum wage of $25 for Early Childhood Educators, two policies the NDP recently followed the lead of the Ontario Greens on.
Schreiner pointed out that the government's ability to fund these important initiatives to build a more caring, equitable and healthy Ontario will be limited by expensive election gimmicks like the removal of licence plate stickers that the Liberals and NDP supported.
"There has to be a moment in time where there is a reckoning," he stressed. "We can't have licence plate gimmicks and cuts to the gas tax when we need the revenues to support better healthcare, education and child care."
"I want you to take a moment to think about the Ontario you want to build, and then the kind of leadership that's needed to build it," said Schreiner in closing, "The no measures, half measures and quick fixes of the other parties will not cut it. It's time for a party with new solutions to old problems.
-30-