For more information, please contact
Cecilia Stuart
Schreiner: it's time to stop the sprawl and protect Carruthers Creek Headwaters
April 11, 2022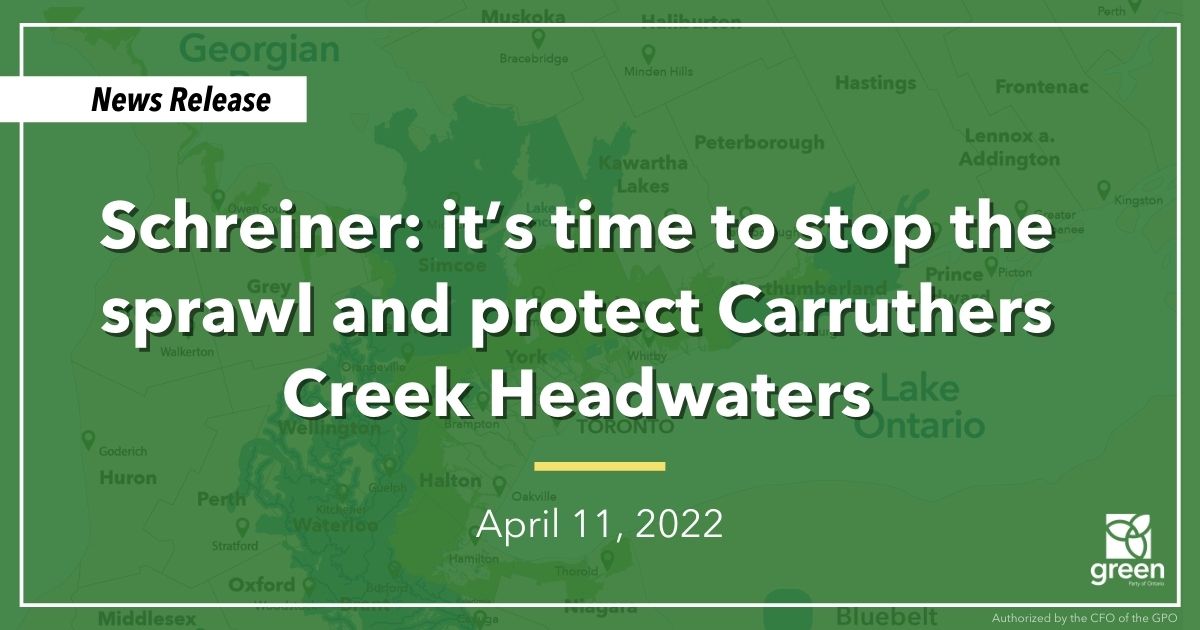 AJAX — Ontario Greens Leader Mike Schreiner pledged today to stamp out expensive urban sprawl and protect the Carruthers Creek headwaters as part of a new Bluebelt, that will double the size of the existing 1.8 million-acre Greenbelt and protect critically important river systems, watersheds and moraines.
"It's time to stop the sprawl," Schreiner said at an announcement in front of Carruthers Creek this afternoon. "Doug Ford's short-sighted, expensive sprawl agenda has gone on for far too long."
"Ontario Greens are committed to stamping out expensive sprawl, protecting the places we love, and building affordable, livable, and connected communities."
Doug Ford's recent Greenbelt proposal completely ignored the headwaters of the Carruthers Creek, which protects local residents from expensive flooding. The Carruthers Creek Watershed Plan found development in this sensitive area could result in up to 113 per cent more flooding in Ajax.
"A flooded basement costs people upwards of $40,000 to repair, while expanding the Greenbelt to include the Bluebelt and protect the Carruthers Creek headwaters would save people money," Schreiner said.
Schreiner was joined by Ontario Greens candidate for Pickering-Uxbridge Julia Rondinone and Leigh Paulseth of local community group Environmental Action Now Ajax-Pickering (EANAP).
"I hear it from my community every day: we need to protect local places like Carruthers Creek from reckless sprawl," Rondinone said. "Our community rallied together to save Duffins Creek from Doug Ford's sprawl agenda, and now Ontario Greens are leading the way to permanently protect Carruthers Creek.'
"We are thrilled to see the Ontario Green Party answer the call for smart and sustainable growth in Durham," Paulseth said. "Maintaining the current urban boundary and protecting the headwaters of Carruthers Creek is vital to create healthy communities for future generations in Ajax and across Durham."
-30-