For more information, please contact
John Chenery
Thaila Riden nominated as Ontario Greens candidate in Glengarry–Prescott–Russell
April 5, 2022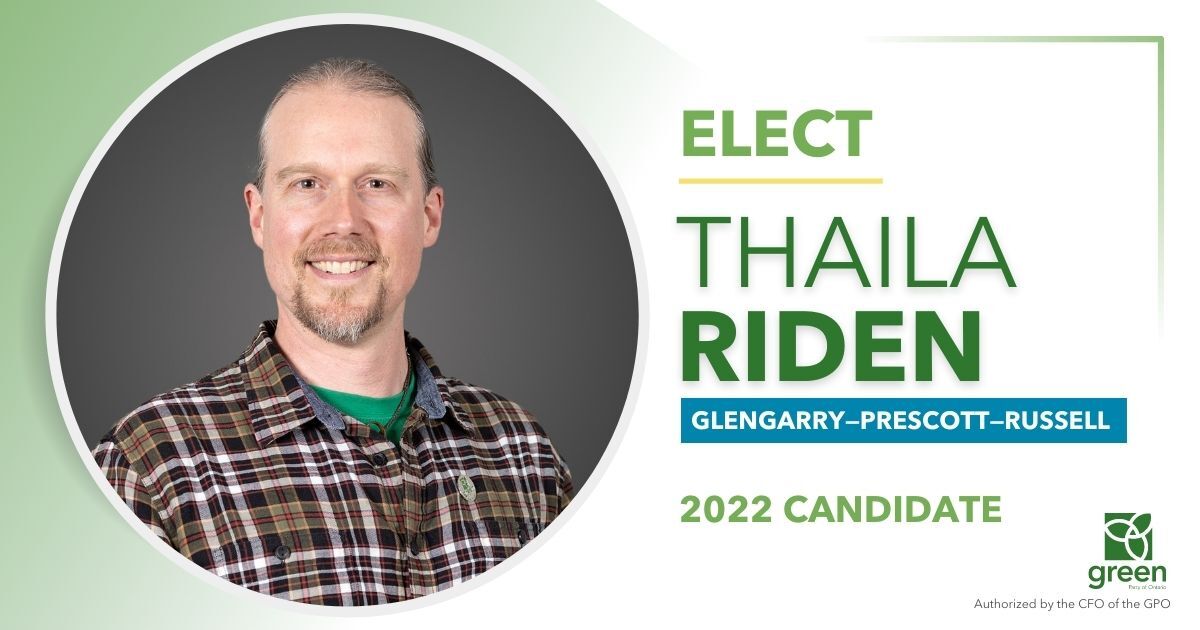 GLENGARRY — PRESCOTT-RUSSELL- The Green Party of Ontario is proud to announce that Thaila Riden has been nominated as its candidate for Glengarry-Prescott-Russell ahead of the 2022 provincial election.
A long-time resident of Glengarry–Prescott–Russell, Thaila Riden is well-known in the community for his activism and dedication to sustainable and organic growing practices.
"COVID-19 laid bare the stark realities of food insecurity, supply chain fragility, inequality, and the intensifying impacts of the climate emergency," Riden said. "We need to urgently crush climate pollution and protect nature to build a more livable and sustainable province."
"Thaila is a champion for his community and the environment," Ontario Greens Leader Mike Schreiner said. "Ontario needs more voices at Queen's Park with a true commitment to stewardship and sustainability."
Riden directly contributed to strengthening Ontario's local economy and putting the province on the map for craft beer production. He was an important player in professionalizing one of Ontario's most successful and beloved craft breweries, Beau's Brewery, aiding in the brewery's certification as a B-Corp, representing them on the board of directors for Sustain Ontario, and managing their organic certification status.
As a board member of the non-profit Eco East, Thaila actively supports the united counties of Glengarry—Prescott—Russell in developing a regional climate action plan.
-30-