For more information, please contact
John Chenery
Schreiner tours Sudbury in support of local sustainable mining and green jobs
March 16, 2022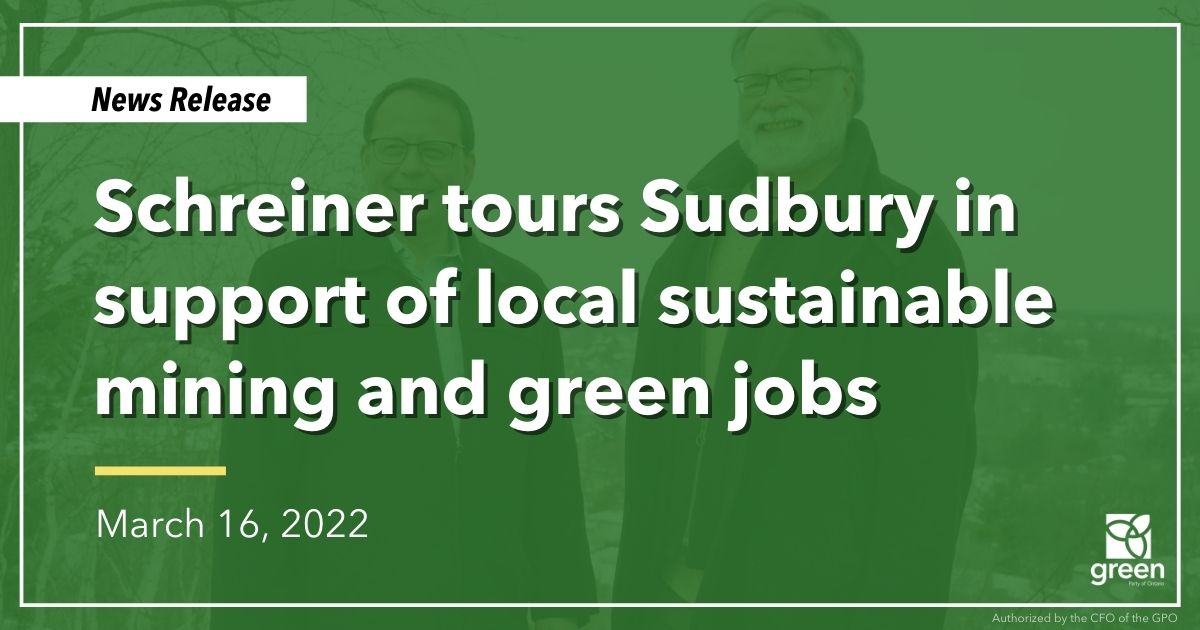 SUDBURY — Ontario Green Leader Mike Schreiner was in Sudbury today to highlight the party's support for sustainable mining and innovation and to meet with local mining experts.
"Sudbury can be a global leader in the new climate economy," Schreiner said. "As the global leader in sustainable mining technology and research, Sudbury will play a key role in our transition away from expensive fossil fuels."
As Ontario and the world decarbonizes and electrifies, minerals like nickel and copper, which are found in abundance in Sudbury, are becoming more and more important in the fight against the climate emergency.
"We can find cleaner, cheaper ways to produce minerals for batteries and renewables," said David Robinson, Ontario Greens candidate for Sudbury.
"Sudbury has the knowledge, technology, talent and resources to make it happen. But we need more support from the province. Ontario Greens are the only party with a real plan for real climate action."
During his tour of Sudbury, Schreiner highlighted the huge potential of a made-in-Ontario electric vehicle supply chain, which starts with sustainable mining in Sudbury.
"There's so much exciting innovation happening here as the city transitions towards a cleaner, sustainable mining future," Schreiner said. "Let's invest in good, green jobs for the people of Sudbury that will crush climate pollution and help the city thrive."
For more information on the Ontario Greens' plan for the new climate economy: gpo.ca/climate/
-30-