For more information, please contact
Cecilia Stuart
Schreiner doubles down on opposition to Holland Marsh Highway as Ford bulldozes ahead with destructive plans
February 25, 2022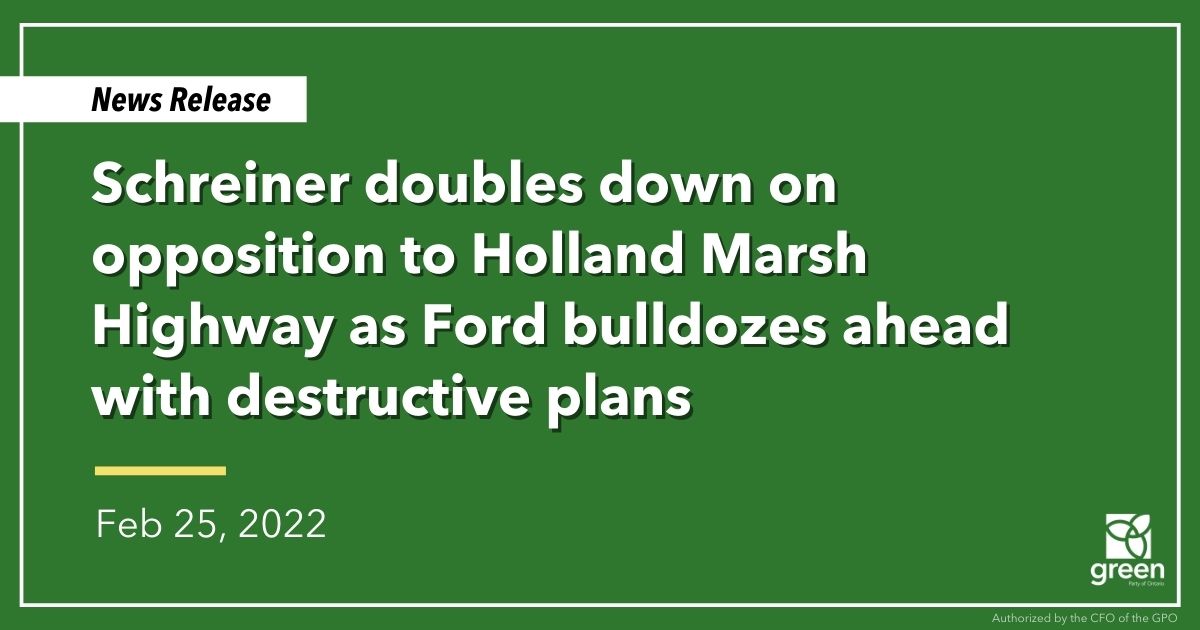 TORONTO — Ontario Green Leader Mike Schreiner doubled down on his opposition to the Holland Marsh Highway at a news conference today in response to Doug Ford's insistence on plowing ahead with the environmentally destructive plan.
"The Holland Marsh Highway is a climate and economic disaster. It would slice through the Greenbelt, pollute the already at-risk Lake Simcoe, increase flood risk, and pump 87 million kilograms of climate pollution into the air, each year."
Yet with the federal Liberals giving the highway the green light, the Ford government says they're "full steam ahead". According to some reports, construction could begin as soon as next month, and Ford has already started evicting people from their homes along the highway route.
"Local momentum is growing against this highway," said Margaret Prophet, Executive Director of the Simcoe County Greenbelt Coalition, who joined Schreiner at the news conference. "Despite what some people may want to believe, the concerns about this Greenbelt highway are driven by the local people who live in the regions directly affected by it."
That growing list in opposition includes 20,000 local residents who have signed petitions, 63 NGOs, and 7 local municipalities. According to a poll from Lake Simcoe Watch, only 29% of local voters support the project, while 48% oppose it and 23% are undecided.
"More highways and expensive sprawl that bulldoze wetlands, poison water and pump climate pollution into the air are not the answer," Schreiner concluded. "We need more transit options and livable and affordable communities that protect nature instead of destroying it — not more long, expensive commutes."
Ontario Greens are committed to protecting 25% of Ontario land and water by 2025 and 30% by 2030, including fragile and vital ecosystems like Lake Simcoe.
You can find the full recording of the news conference here: https://youtu.be/iiWjKPetyis
-30-