For more information, please contact
John Chenery
Ontario Greens call for expanded round of grants for all impacted small businesses as reopening begins
January 31, 2022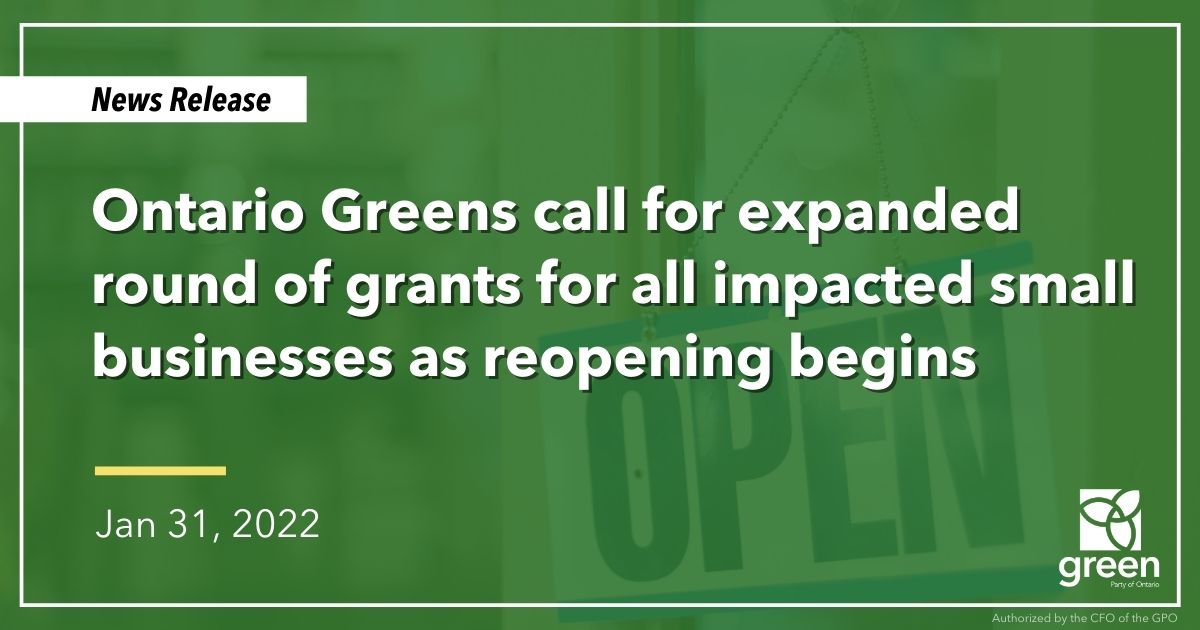 TORONTO/CALEDON — This morning, Ontario Greens leader Mike Schreiner and small business owner and candidate for Dufferin-Caledon Laura Campbell called for an expanded round of grants for all impacted small businesses.
"While today's reopening is welcome news for many small business owners, the reality is that most small businesses in Ontario are still struggling and desperately need support," Schreiner said.
According to the Canadian Federation of Independent Business (CFIB), only 28% of Ontario small businesses are operating at normal revenues and 19% are actively considering bankruptcy. The average COVID-19 debt for small businesses across the province is over $190,000.
"Operating at 50% capacity means many small businesses will still be operating at a loss," Schreiner said.
To support small businesses, Ontario Greens are calling on Doug Ford to:
Immediately expand eligibility for the new Ontario COVID-19 Small Business Relief Grant to all impacted businesses, even if they're not fully closed
Add another round of funding for February, given that many sectors will not reach 100% capacity until the end of the month
Increase the amount of the staycation tax credit and and expand it to include dining at restaurants
Additional sector-specific support for small business sectors that have been hardest hit, such as gyms and indoor dining
"The support that Doug Ford announced in early January was too little, too late," said small business owner Laura Campbell. "The community is stepping up and rallying around local small businesses, now it's on the Ford government to do the same."
Please find the full recording of today's news conference here.
-30-