For more information, please contact
Cecilia Stuart
Doug Ford trying to bypass environmental oversight on highways
November 29, 2021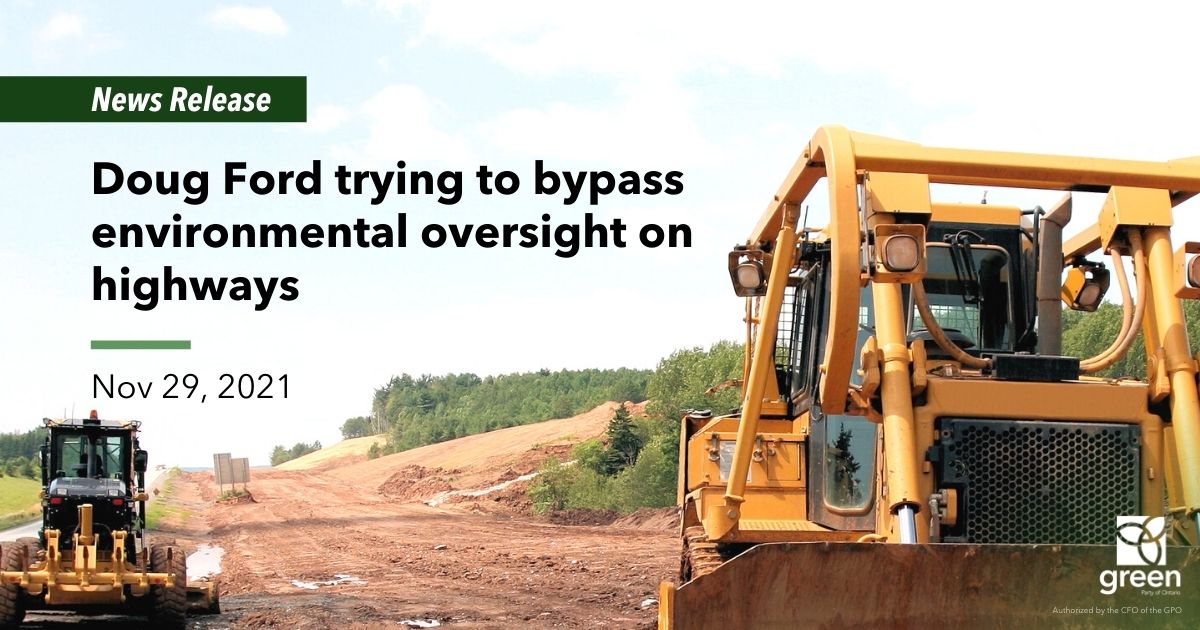 TORONTO — Mike Schreiner released the following statement in response to the government's new proposal that would exempt certain projects including Highway 413 and the Holland Marsh Highway (Bradford Bypass) from a proper environmental assessment
QUEEN'S PARK — Mike Schreiner released the following statement in response to the government's new proposal that would exempt certain projects including Highway 413 and the Holland Marsh Highway (Bradford Bypass) from a proper environmental assessment:
"Ford is once again rewriting the rules to bypass environmental oversight.
The latest Environmental Registry of Ontario (ERO) posting confirms that Ford intends to proceed with exempting environmentally destructive projects like Highway 413 and the Holland Marsh Highway from proper environmental assessment.
These highways would slice right through the Greenbelt, destroy forests, wetlands and waterways, pave over farmland, and pollute Lake Simcoe.
Environmental assessments (EAs) play a key role in protecting people, nature and water in Ontario. They should be strengthened and made more robust, not weakened.
We can develop without harming nature by building communities that are livable and affordable and connected by transit.
Doing an end run around proper oversight threatens people and communities while harming nature and farmland. This is not the way forward.
I'm calling on Doug Ford to stop obstructing environmental oversight and harming people and nature."
-30-