For more information, please contact
John Chenery
Carla Johnson nominated as Ontario Green Party Candidate in Cambridge
November 12, 2021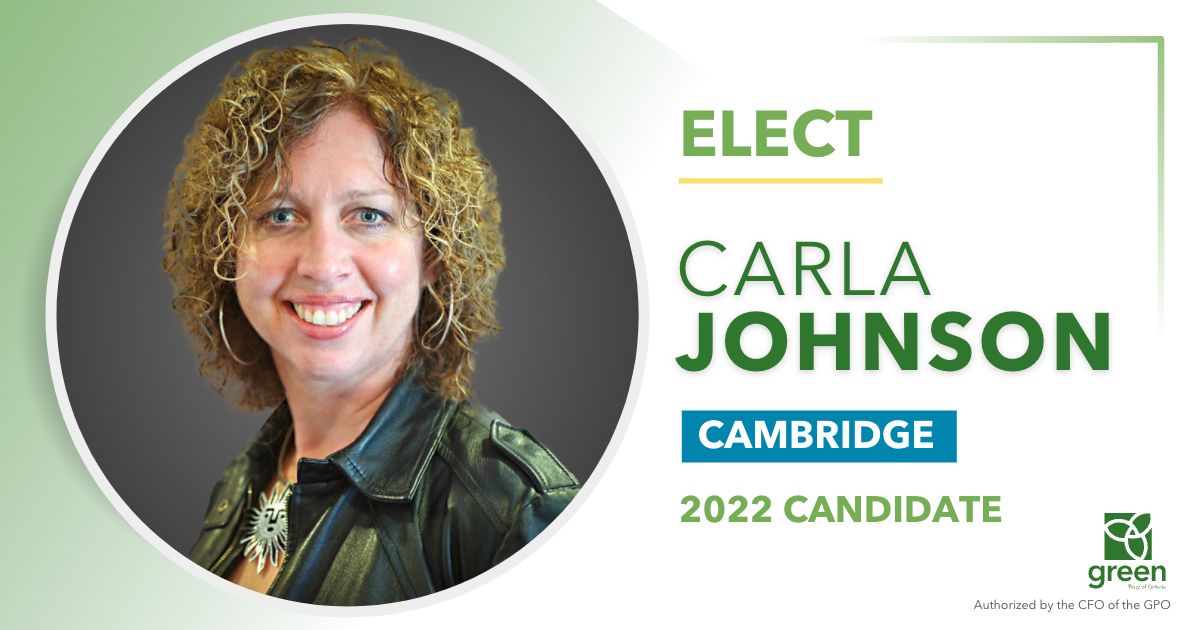 CAMBRIDGE — Ontario Greens are proud to announce that Carla Johnson has been nominated as their candidate for the Cambridge riding ahead of the 2022 provincial election. Johnson won the nomination in a closely contested race this week.
A long-time Cambridge resident, Johnson is an educator, author, enthusiastic community volunteer and inspiring public speaker.
Previously a middle school teacher, Carla believes community spirit is the heart of a good society. In the spring of 2020, she launched CMH Lunch Is On Us, an initiative that fed hospital workers 3,000 free lunches during the early crisis of COVID-19. She worked on several other community initiatives and more recently she served on the committee for the Cambridge Poppy Project, a collection of art installations using over 33,000 hand-knit and crocheted poppies to honour our veterans.
"Cambridge residents need a champion on issues that matter most to them like affordable housing and reducing commute times with better transportation options," said Johnson. "I'm committed to listening and working hard to bring those voices to Queen's Park. Ontario Greens are offering a real plan to building affordable, connected and sustainable communities and that's why I'm running as a green candidate."
"We're excited to have Carla join the team," said Mike Schreiner, Leader of the Ontario Greens. "Her passion for local issues, strong community involvement and commitment to helping to build a better future is what makes her a great candidate. I encourage voters in Cambridge to support her and send her to Queen's Park next June to be their voice in the Legislature."
Carla is the author of two self-published books and was the V.P. of Corporate Affairs for the Bravo Group in Mississauga supporting start-up businesses across the province. An accomplished singer and piano player, Carla has also studied photography, painting and pottery.
Carla and her husband Steven raised their daughter here in Cambridge.
More information on Carla can be found here. 
-30-