For more information, please contact
Cecilia Stuart
Schreiner outlines legislative priorities ahead of return to Queen's Park
October 1, 2021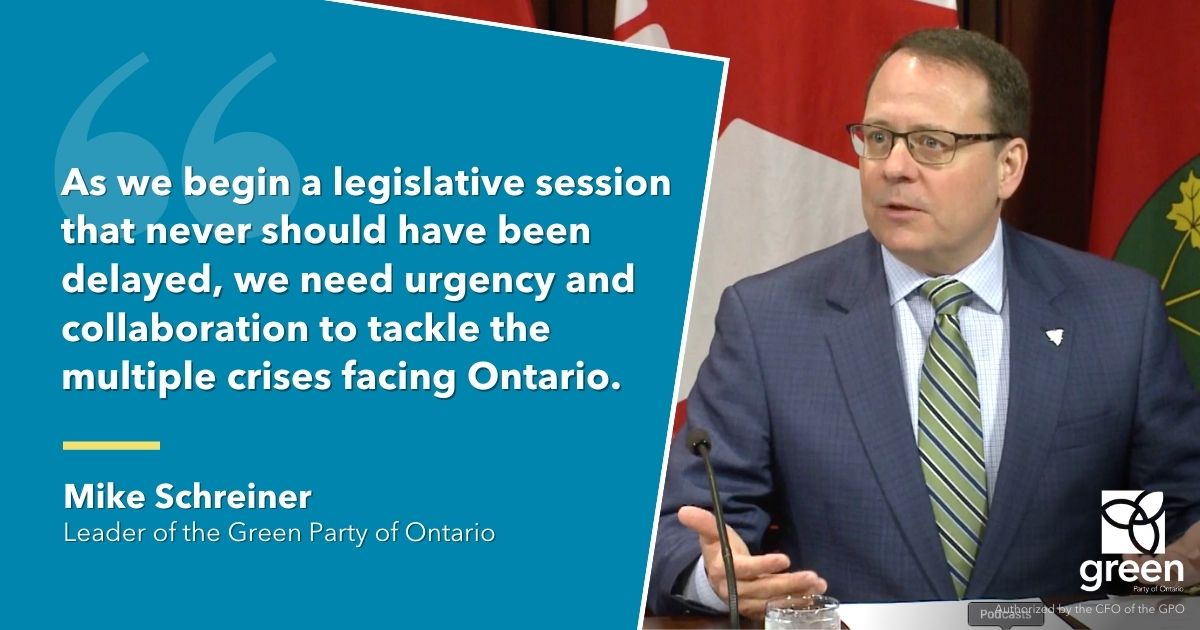 TORONTO — Mike Schreiner released the following statement ahead of the Throne Speech and start of the legislative session.
"As we begin a legislative session that never should have been delayed, we need urgency and collaboration to tackle the multiple crises facing Ontario.
The province is over a year and a half into a public health emergency, with a nursing shortage crisis that is at a breaking point and needs to be immediately addressed by improving working conditions and pay.
This is the third school year affected by the COVID-19 pandemic. Yet schools are still not as safe as they should be. Almost 1 in every 5 schools across the province has COVID cases, and the recent Science Table modelling clearly shows that cases in children are increasing. Where are the rapid tests? Where are the lower class sizes? Where is the commitment to keeping our kids safe and schools open?
These are the types of questions that need to be urgently addressed when we return to Queen's Park, along with providing clarity, legal and funding support for small businesses who are concerned and confused with the vaccine certificate rollout.
And as the pandemic continues, the climate and housing crises escalate with every day of inaction.
Scientific reports, recent wildfires, floods and droughts all point to the same sign: we're in a climate emergency and must do everything possible to avoid climate disaster.
That means looking at Ontario's most pressing issues through a climate lens. Whether it's housing affordability, infrastructure, mental health, health care or food security. Climate change impacts everything.
We can tackle the housing affordability and climate crises at the same time with smart density, infill, and the missing middle to stamp out climate pollution-causing sprawl once and for all.
So let's get back to Queen's Park and collaborate to make things happen.
That's what Ontarians want and it's what they deserve. And it's what we need now more than ever."
-30-