For more information, please contact
John Chenery
About Mike
Mike Schreiner, Leader of the Green Party of Ontario and MPP for Guelph, is the first Green MPP elected to the Ontario Legislature in 2018.
Schreiner reflects on fall legislative sitting at Queen's Park
December 9, 2021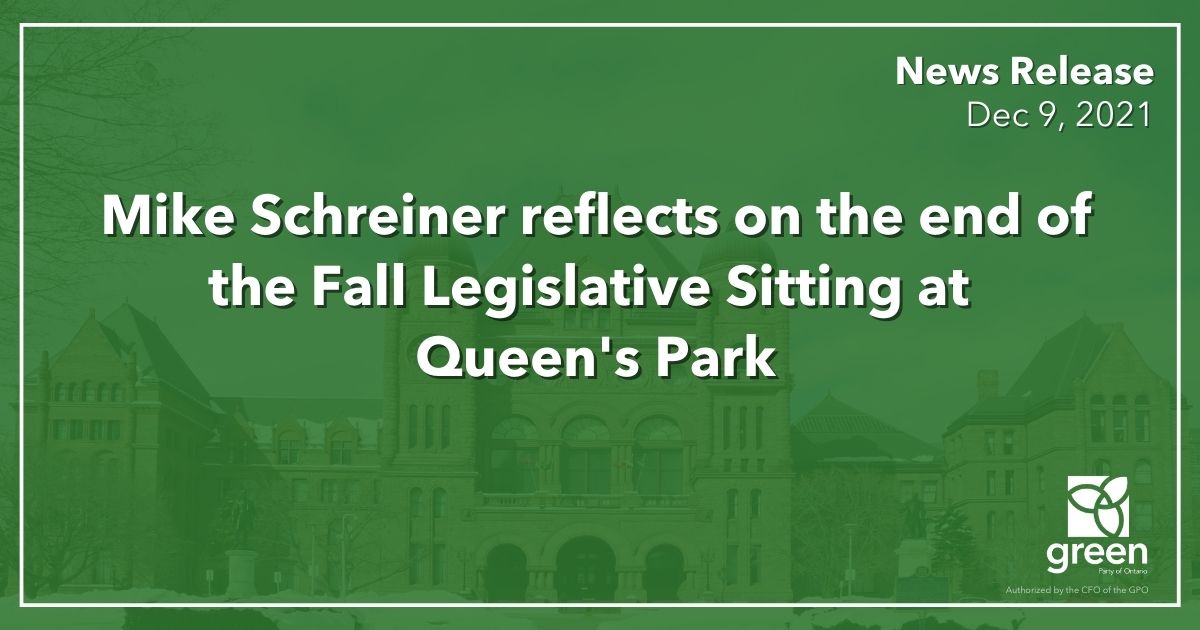 TORONTO — Ontario Green Leader Mike Schreiner made the following statement at the end of the fall sitting at Queen's Park
QUEEN'S PARK — Ontario Green Leader Mike Schreiner made the following statement at the end of the fall sitting at Queen's Park:
"Today marks the end of a fall sitting that was equal parts frustrating and productive.
Frustrating due to Doug Ford's refusal to implement the available tools to slow the spread of COVID-19, like rapid tests, 10 paid sick days, N95 masks and mandatory vaccinations for healthcare and education workers. And his insistence to pave ahead with an anti-climate agenda that harms people and nature.
But productive due to the solutions that the Ontario Greens put forward.
In June, we put forward a housing strategy that was lauded as a 'masterclass plan'.
And this sitting, I got to work immediately putting this plan into action, tabling multiple motions to stamp out sprawl and to address the housing affordability crisis. Because everyone deserves an affordable place to call home.
We are in a climate and housing crisis, and we can solve both at the same time.
We have a real plan for real action.
Climate action can't wait. That's why the very same week that we launched our Roadmap to Net-Zero climate plan, I put forward a transformative carbon budget bill that would cut Ontario's climate pollution in half by 2030 and to net-zero every year from 2045.
We need to hold the government to account and crush climate pollution.
Ontario Greens continue to lead the way against Doug Ford's pro-sprawl, anti-climate schemes, like Highway 413 and the Holland Marsh Highway (Bradford Bypass).
And we helped save Duffins Creek, which cleans drinking water and protects people from flooding, from being paved over by reckless development.
We have a plan to protect people, nature and water. Like through my private member's bill to protect and conserve the Paris Galt Moraine, which provides drinking water for hundreds of thousands of Ontarians.
Fortunately, the government is finally starting to listen to us on electric vehicles (EVs). For years, Ontario Greens have been the leading voice calling for investments in cleantech and EVs. I'm glad Doug Ford is finally starting to wake up. But we need so much more action on the green economy, so we can crush climate pollution and kickstart a green recovery from COVID-19.
We need to be honest about what it's going to take to address the twin crises of climate and housing in Ontario.
The Ontario Greens are the only party with a real plan to address both — simultaneously.
I'm looking forward to continuing our work of putting our plan into action during the next legislative sitting at Queen's Park in 2022."
-30-